Rent
(2005)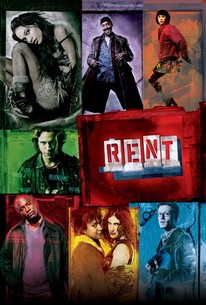 TOMATOMETER
AUDIENCE SCORE
Critic Consensus: Fans of the stage musical may forgive Rent its flaws, but weak direction, inescapable staginess and an irritating faux-boho pretension prevent the film from connecting on screen.
Movie Info
In New York's East Village, a group of bohemians struggle to express themselves through their art and strive for success and acceptance while enduring the obstacles of poverty, illness and the AIDS epidemic. Roger is an aspiring songwriter who has emotionally shut down after his girlfriend's suicide. Despite his attraction, he is reluctant to start a new romance with his downstairs neighbor Mimi Marquez, an exotic dancer struggling with "baggage of her own." Roger's roommate Mark is a filmmaker trying to balance art and commerce. His girlfriend Maureen, a self-indulgent performance artist, recently left him for a lawyer named Joanne. Also part of this close-knit circle is Tom Collins, a professor of philosophy who, after being mugged, is rescued by his soul mate, a high-spirited street drummer, Angel Shunard. Benny, who alienated his friends after he married their landlord's daughter, has reneged on his promise to provide rent-free artist space to his bohemian friends. Once a close friend, he is now viewed as the enemy, threatening them with eviction.
News & Interviews for Rent
Audience Reviews for Rent
½
Nothing rings true in this insufferable musical that doesn't have any focus and is filled with awful songs of pedestrian lyrics (some of them sung by terrible singers), centered on a completely artificial and outdated idea of New York based on stereotypes and clichés.
Carlos Magalhães
Super Reviewer
½
At one point in time, I would have said that I would probably go my whole life without ever watching this film adaptation of one of the longest running and most popular Broadway musicals of all time, that is also loosely based on the opera La Boheme. What changed all that? Well, this film is one of the favorites of my most recent ex, and, during our time together I had her watch several of my favorite films, so why not be fair and watch some of hers. And, surprisingly, I actually kinda liked this, and more than I thought I would. The story, set in 1989/1990 New York concerns a group of friends struggling to eek out an existence in the Bohemian neighborhood of Alphabet City. Besides being a bunch of hipstery artists and creative types, what unites these people is their shared struggles with poverty, and, in some cases, addiction recovery, and the AIDS epidemic. Pretty grim stuff for a musical, but obviously it has worked. When this film adaptation was announced, I vaguely remember a lot of people getting irked because not only were they making it PG-13, but it was being director Chris Columbus (Home Alone, Mrs. Doubtfire, the first two Harry Potter films). Still, even then, it got a decent reception, even with some pretty mixed views as well. When it came to pass that I finally saw this, I tried to be open minded about it, both in general, and because I'm a good guy and a great boyfriend. And yeah, I ended up actually kinda liking it. Ganted, it's overlong, and yeah, with Columbus directing it, it is a very shiny, pretty movie that downplays a lot of the grimness and grittier stuff, but even then it still manages to get the point across .I do think this would be an even better and stronger work if it was darker, grittier, and more streamlined, but that's how I would feel no matter who directed it. As for the music, it's good. Very contemporary Broadway show tunes style, but I expected that. Sometimes it gets a bit rock operaish, which is cool, but it's mostly very popish. In my ideal version, it'd have more of an edgier rock presence, but whatever. The cast (almost all of whom are reprising their roles from the stage) are terrific, really nailing both the singing and the characters and their chemistry with one another. Again, since most of them are reprisals, it was expected, but nevertheless cool. As for the new people (like Rosario), they do fine too. No real complaints here. In my review for Frozen, I mentioned how the music was very Broadway show tuneish, something I shouldn't be too surprised about since Idina Menzel features prominently in both. The set pieces are well done, the subject matter is still relatable and relevant, and this movie gives you a lot to chew on. The cinematography is pretty decent, and I recall at least one well executed long take, but a lot of it just feels like a filmed version of a play, which, depending on how you feel, is either good or bad. For me it depends on the thing in question, but here, I kinda wished it was less stagy, as that keeps the fiom from ultimately being it's own thing. All in all, I ended up liking this a hell of a lot more than I ever thought I would. Yeah, it's not really my thing, and I think it is kinda overrated, but a lot of it just comes down to personal preferences with aesthetics. Yeah, it should be a lot less pretty and watered down, but at least they still get the point across.
Chris Weber
Super Reviewer
Life-affirming and sexy-fun :~P There was much criticism about reuniting the now thirty-something original Broadway cast to play twenty-somethings, but I rather prefer the older cast because now, their lack of jobs seems to come from a wiser, existential place, rather than a lazy, youths in revolt place. The deleted number "Good Bye Love" is melancholic, and the alternate ending with Angel's encore appearance is so much better than the gang crowding around Mark's lame single-shot "film."
Alice Shen
Super Reviewer
Rent Quotes
| | |
| --- | --- |
| Joanne Jefferson: | Be wise, 'cause this girl satisfies. You got a prize? Well don't compromise, you're one lucky baby. |
| | |
| --- | --- |
| Mark Cohen: | Time flys; time dies. Glory. |
| Roger Davis: | Time flys; time dies. Glory. |
| | |
| --- | --- |
| Mimi Marquez: | There's only us, There's only this, Forget, Regret or life is yours to miss. |
| Mimi Marquez: | There's only us, there's only this. Forget regret. Or life is yours to miss. No other road, no other way, no day but today. |