Godzilla: Final Wars
(2004)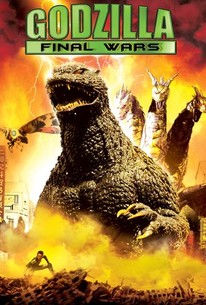 Godzilla: Final Wars Photos
Movie Info
Giant monsters are rampaging in cities across the globe, and as the Earth Defense Force struggles to find a way to defeat the malicious mutants, their only hope lies frozen in the Antarctic in Versus director Ryuhei Kitamura futuristic entry into the long-running kaiju series. In the near future, Earth is being decimated by monsters that have been mysteriously unleashed in every major city from New York to Sydney, and as the world population falls into a paralyzing state of panic, the Earth Defense Force must stage a daring initiative to save the human race. After a giant unidentified flying object suddenly appears and vaporizes the beasts in a matter of seconds, the relieved citizens of Earth are comforted to hear that the newly arrived alien race is seeking to make a peace treaty with humankind. All is not as it seems, however, and as the nefarious aliens reveal their true nature, it's up to Godzilla to take back the planet -- or die trying.
Critic Reviews for Godzilla: Final Wars
Audience Reviews for Godzilla: Final Wars
½
Fifth years of Godzilla has totalled 28 movies of mixed to great quality in terms of monster action, thrills, horror and exhilarating fights that are larger than life. With this entry being the 28th film in the series, one must ask yourself is this a great film to celebrate fifty years of the legendary Godzilla? Well, kind of. The film tends to have a decent idea for its story, however at times it just lacks in terms of effective material that will satisfy fans. That's normal because after nearly thirty movies, how far can you carry on a series? Even monster films like this lack steam. As a whole, it is a decent affair, but one that certainly could have been done much better and it does leave a lot to be desired in terms of a good story and action. The cast do what they can with lacking material, but it ends being an amusing little monster film that is decent for what it is, but at the same time could have been better because of the fact this was fifty years of Godzilla. The film has its merits and entertaining, but at the same time, you wonder how good this one could have been if there would have been a bit more thought out elements to its plot. As a Godzilla film it works, but compared to the last few outings, it's a step down in quality. Worth seeing if you loved the other entries, but don't expect anything great. Go in with decent expectations, and that's what you'll get. Godzilla: Final Wars is fun decent significant flaws.
½
I admit I haven't seen any of the old Godzilla films from Japan and never really been into them but the poster for this film just intrigued me, it looked like a computer game cover which I wanted to play. Dunno how they do it but somehow Japanese films always seem to look gloriously slick n glossy and at the same time completely insane and over the top whilst also managing to be really good. This is no exception with a mix of the traditional hammy looking 'men in suits' approach which all Zilla fans will know and love, combined with some bluescreen work, cgi and model work. It sounds like a real cocktail and it is with some truly silly camera angles and in your face effects and stunts which wouldn't look outta place in tacky W.S. Anderson film being accomplished by Milla Jovovich but somehow the Japanese make it all look terrific, colourful, stylish and original, just like their computer games. All the monsters are included in this Zilla epic, a real monster mash just like the old Universal horrors, plus there are cast members from various older Zilla pics also (apparently) which is great for fans. The film is a blend of many genres and ideas you could pick from lots of films, its such an outrageous ambitious looking project but clearly made with care for the franchise. The film is a fans wet dream and for newbies like me its a great sci-fi monster rumble with plenty of great visuals and neat ideas. The characters are all a bit cliched but you kinda know that going in, still they all look good, kudos to Don Frye who looks great in his 'M. Bison' looking outfit, sounds daft I know but he really looks cool. Despite not being a graphic novel or comicbook adaptation this film really does feel and look like one, I really can't give enough praise for the tasty visuals, its so pleasing to eye especially with the mix of effects on offer. Completely enjoyable for all we no knowledge of previous films required :)
Phil Hubbs
Super Reviewer
Godzilla's 50th anniversary and it is a birthday blowout. The plot is pretty much a remake of "Destroy All Monsters", in which many monsters make an appearance. Not all of Toho's monsters appear, but it is a ton of them. Gigan makes an appearance, his first appearance since the Showa series. Even obscure monsters like Ebirah and King Cesar are in this movie. The film is literally non-stop action from beginning to end. Not only do the monsters fight, but the human scenes are laden with gravity-defining kung-fu fighting. It is a nice trade-in because the usual formula is monsters fighting and people talking. Here it is all fighting. The action sequences are kinetic and also varied, so it never becomes repetitive. The sci-fi look of the film makes me feel like I'm watching a live-action anime at times. Don Frye gives the film a memorable human character because he is tough and holds his own in fight scenes. If Michael Bay were to make a Godzilla flick, this is probably what it would be like. Final Wars is crazy but insanely fun.
Christopher Heim
Super Reviewer
Godzilla: Final Wars Quotes
There are no approved quotes yet for this movie.