The New World
(2005)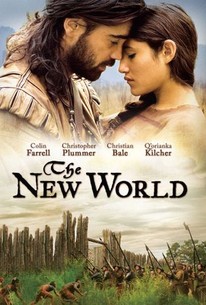 TOMATOMETER
AUDIENCE SCORE
Critic Consensus: Despite arresting visuals and strong lead performances, The New World suffers from an unfocused narrative that will challenge viewers' attention spans over its 2 1/2 hours.
Movie Info
This epic adventure is set amid the encounter of European and Native American cultures during the founding of the Jamestown Settlement in 1607. Inspired by the legend of John Smith and Pocahontas, this story is a sweeping exploration of love, loss and discovery -- both a celebration and an elegy of the America that was... and the America that was yet to come. Against a historically accurate Virginia backdrop, two strong-willed characters -- a passionate and noble young native woman and an ambitious soldier of fortune - are torn between the undeniable requirements of their civic duty and the inescapable demands of the human heart.
Critic Reviews for The New World
Audience Reviews for The New World
A beautiful poem to Western civilization's arrival on American shores told through the by now familiar romance of John Smith and Pocahontas. Malick's work is not for everyone as he ignores conventional storytelling. The leads are powerfully convincing in this, the visuals lush and the music epic. Meant for a quiet space in your life where there's time to let it all in.
Kevin M. Williams
Super Reviewer
½
I enjoyed this movie, but I suspect I'll probably enjoy it with a second or third viewing. Also, maybe if I plan to watch it (instead of turning it on because it happens to be on unexpectedly), and watch it when I'm not tired and can focus, then I'll enjoy it more. Terence Malick is a very acquired taste, but is capable of providing some rewarding stuff. One has to be in the right mood to enjoy his stuff, but if you can get into that groove, then the experience is quite something. This take on the Pocahontas story, while taking liberties and guilty of some inaccuracies, does far better justice than the 90s raping perpetrated by Disney. For one, this is just better shot, not (really as, if at all) whitewashed, and just a better production all around. Oddly enough, Christian Bale is involved with both films. Despite some license with history/story, and a purposeful desire to focus on the romance, this is a thoughtful, gorgeous poem about culture, nature, and life. As is common with Malick's work, the cinematography and visuals are absolutely stunning. This sucker is just wonderful to stare at. What misgivings the story has are made up with more faithful attempts to accurately depict cultures, sets, locations, and costumes. The art direction and set design, like the camera work, are dynamite. The real star of the show is nature. The humans do a good job too, but they are merely supporting players, even the characters who are supposed to be the leads. This is art, so I'm sure most people won't like this. It wouldn't be what they're expecting. Much like 2001, Solaris, and other great works of art, this film is long, slow paced, and features minimal dialogue. I appreciate the subtlety and not having everything handed to me. What's odd though is that while there's not much dialogue, there's a lot of voice overs to fill in the gaps. Some don't like this (as I've read), but it didn't bug me too much. One thing I really appreciated is how not all of the scenes with Native Americans speaking are subtitled. I liked that. It makes the viewer pay attention and pulls them into feeling just like the colonists in terms of having to jump a communication hurdle. I wanted to like this more, but I found it hard to watch. For the reasons I opened this review with, it's not so much to the fault of the film. I think you should give this a chance, if only to stare and gorgeous images and listen to beautiful music while cultures clash in an artistically rendered historical romance.
Chris Weber
Super Reviewer
½
A gorgeous, heavily emotional film from the brilliant Terrence Malick concerning the dawn of the exploration of America, and how John Smith (Colin Farrell) becomes deeply connected with the princes Pocahontas (Q'Orianka Kilcher) after she saves him from certain death by her people. Unfortunately, this is a very misunderstood movie. It isn't aiming for historical accuracy or to tell a usual epic story, instead it is a long, winding poem full of whispers, beautiful scenery, and fantastic music. It is not for everyone given its length (the director's cut runs nearly three hours) and unique style, but the hypnotizing grasp this film had on me lasted for near its entirety. Sure, as said, it takes some liberties with how to portray historical characters (there's no way Smith would be as quiet and reflective in real life as he is here), but this is a truly beautiful movie and moving story to be a part of. It's a mixture of history and romance, but most importantly, it's an experience. This is a work of beautiful art, which is undeniably the goal of Malick. The gorgeous, mature Kilcher is a revelation as Pocahontas, and Farrell is extremely impressive as a romanticized Smith. You either love Malick (like me), or you hate him. To me, this might be his finest work, which is saying something.
Dan Schultz
Super Reviewer
The New World Quotes
| | |
| --- | --- |
| Pocahontas: | Have you found your Indies, John? |
| John Smith: | I might have sailed past them. |
| | |
| --- | --- |
| Pocahontas: | "What else is life but being near you?!" |
| Pocahontas: | What else is life, but being near you? |