Pride and Prejudice
(2005)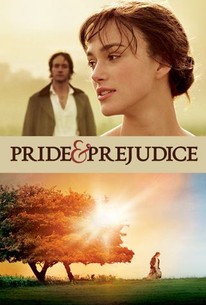 TOMATOMETER
AUDIENCE SCORE
Critic Consensus: Sure, it's another adaptation of cinema's fave Jane Austen novel, but key performances and a modern filmmaking sensibility make this familiar period piece fresh and enjoyable.
Pride and Prejudice Videos
Pride and Prejudice Photos
Movie Info
Jane Austen's perennially popular story of the game of love among the British upper classes returns to the screen in this polished film adaptation. The Bennets (Brenda Blethyn and Donald Sutherland) are the parents of five daughters near the close of the 18th century. Comfortable within their means but well short of rich, Mr. and Mrs. Bennet are looking for suitable husbands for their girls, and they are encouraged to learn that an eligible young bachelor from a wealthy family, Charles Bingley (Simon Woods), has moved into a nearby estate. Eager to see if a match can be made, the Bennets bring their daughters Elizabeth (Keira Knightley) and Jane (Rosamund Pike) to a ball thrown by their new neighbor to see if sparks will fly. Jane seems to like Charles, and he appears to feel the same, but Elizabeth takes an immediate dislike to Darcy (Matthew MacFadyen), Charles' egocentric best friend. While Elizabeth is infatuated with military man Lt. Wickham (Rupert Friend) and finds herself courted by William Collins (Tom Hollander), a well-meaning but drab man of the cloth, fate causes Elizabeth and Darcy to frequently cross paths, and while they don't care for one another, they can't stop thinking about each other, either. Pride & Prejudice also stars Jena Malone, Judi Dench, and Penelope Wilton. ~ Mark Deming, Rovi
News & Interviews for Pride and Prejudice
Critic Reviews for Pride and Prejudice
Audience Reviews for Pride and Prejudice
With a great cast, a wonderful score and a sumptuous production design that feels like a travel in time, this is a delightful adaptation that benefits mostly from Austen's dialogue (despite not being as charming as when you read it) and Keira Knightley's strong performance.
Carlos Magalhães
Super Reviewer
½
Decent, but really not my type of movie. I would totally hate to live in that era, I can't believe women go all silly over it. I just felt cross the whole time watching the women married off and treated like cattle. Not my idea of a romantic film! As to the cast, the highlight here is Keira. She is fantastic as Lizzie. The actor playing Darcy, I agree with a previous reviewer - he looks constipated. Carey Milligan doesn't have a lot to do here but giggle. Jenna Malone I couldn't even recognize. The parents I found tiresome. The movie itself looks great and there are some nice shots here. I am very mixed on this movie. I didn't like the message a whole lot - particularly the 15 year old sister. However, I realize different times. At least Lizzie was a little older and spirited. I guess I am still thinking about it a day later, so it must work in some level...
Nicki Marie
Super Reviewer
½
This film really took me by surprise, not by how good it was, but by how much I liked it. This excellent film completely took me in and I absolutely loved it.

There's really not much to say about this one. The story is great, and brilliantly adapted from the famous Jane Austen novel. The cinematography is excellent, as are the props, costumes, etc...you are truly transported into the era. The music is good; the writing is good; the cast is good...everything about this film is good.

Special mention must go to Keira Knightley Oscar nominated performance. It really was that good! She's an actress that I highly respect and enjoy despite the skeptics that accuse her of not being that great of an actress. But her performance here is proof of her talents. I loved her in this film!

Pride & Prejudice is an excellent film! A must see!
Jameson Worley
Super Reviewer
Pride and Prejudice Quotes
| | |
| --- | --- |
| Elizabeth Bennet: | I wonder who first discovered the power of poetry in driving away love. |
| Mr. Darcy: | I thought poetry was the food of love. |
| Elizabeth Bennet: | Of a fine, stout love it may. But if it is only a vague inclination I'm convinced one poor sonnet would kill it stone dead. |
| Mr. Darcy: | So what do you recommend, to encourage affection? |
| Elizabeth Bennet: | Dancing. Even if one's partner is barely tolerable. |
| | |
| --- | --- |
| Charlotte Lucas: | not all of us can afford to be romantic |
| Charlotte Lucas: | Not all of us can afford to be romantic. |
| | |
| --- | --- |
| Mr. Darcy: | You have bewitched me in body and soul, and I love, I love, I love you. |
| | |
| --- | --- |
| Elizabeth Bennet: | From the first moment I met you, your arrogance and conceit, your selfish disdain for the feelings of others, made me realize that you were the last man in the world I could ever be prevailed upon to marry. |