The Ringer
(2005)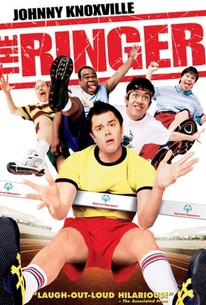 Movie Info
A guy trying to do the right thing ends up taking part in one of the most morally dubious con games in history in this comedy. Steve Barker (Johnny Knoxville) is an office drone who wants to move up the corporate ladder, but when he asks his boss for a promotion, it comes with a condition -- Steve has to fire Stavi (Luis Avalos), who has been the firm's janitor for years. Steve decides to soften the blow by hiring Stavi to do his lawn and garden work. However, an accident robs Stavi of several of his fingers, and since he doesn't have medical insurance, Steve needs to find a way to pay for his surgery. Steve's uncle Gary (Brian Cox), a sleazy type who will bet on anything, also needs some fast cash, and comes up with a get-rich-quick scheme -- Steve was a track star in high school, and with the Special Olympics Championships coming up, all Steve has to do is pretend to be mentally challenged, enter the competition, and win the running events against six-time medalist Jimmy (Leonard Flowers). Gary will bet big on Steve, and the odds will allow them to clean up. Steve is appalled by the idea, but he needs the money badly enough to go along. However, Steve discovers that Jimmy is fast enough that he has little chance of beating him. However, Jimmy's colossal ego has made him many enemies among his fellow Special Olympians, and they're eager enough to see him taken down a peg that they help Steve train for the big event. Matters become all the more complicated when Steve becomes infatuated with Lynn (Katherine Heigl), a beautiful woman who has volunteered to help the challenged athletes, and would doubtless be furious if she found out what Steve was really doing. Produced by Peter Farrelly and Bobby Farrelly, The Ringer was the first fiction directorial credit for Barry W. Blaustein; the story also parallels a 2004 episode of the animated television series South Park, "Up the Down Steroid." ~ Mark Deming, Rovi
Critic Reviews for The Ringer
Audience Reviews for The Ringer
As a film enthusiast, you're always looking to be surprised. The more one learns about a given medium or art form, the more one risks falling into cynicism, focussing solely on the conventions and limitations of said form until the only surprises in life are the crushing disappointments. I hinted at this in my review of The First Day of the Rest of Your Life, arguing that sometimes it is best to go in completely cold. I find myself in a similar predicament with The Ringer. Like Remi Bezançon's debut from six years ago, there are a lot of aspects to its surface which could cause any sensible film fan to write it off. From any angle it's not a great film, just as you wouldn't expect any of the individuals it showcases to be great athletes. But when given the chance to show what it can do, it is surprising and genuinely touching. While ostensibly helmed by Barry W. Blaustein, The Ringer is at heart a Farrelly Brothers project. It's shot and constructed in a very similar manner to the Farrellys' own directorial efforts, and nods towards many of the themes and motifs which are explored in the likes of Dumb and Dumber or There's Something About Mary. These include: the lengths to which men go to be with women, how childhood trauma impacts on people in adult life, and the social status of people with disabilities. It's fitting, albeit in an unfortunate way, that I should be reviewing this film so soon after the tragic death of Rik Mayall. Both Mayall and the Farrellys have aspects of their ouevre which appear outwardly to be puerile, adolescent and stupid - Bottom being the clearest example in the former case. But in both instances, the toilet humour can be regarded as superficial, a way-in for the mainstream to explore issues which would not be raised so aptly in lesser productions. It is, of course, perfectly easy to view Bottom as just an endless string of knob gags and rude words. But it is just as possible to view it as a modern-day Waiting for Godot, exploring as it does the existential angst of two lonely men with no discernable purpose or special qualities. In the same way, we can write off The Ringer as just another predictable film about an adolescent man-child, hooking up with a woman who's out of his league and being offensive along the way. But beneath this predictable surface, its treatment of issues surrounding disability is admirable, if not reasonably sophisticated. There are many aspects to The Ringer which are annoyingly predictable. Its characters are painted in broad strokes and feel very one-dimensional, at least for the first 30 minutes. Brian Cox in particular gets very little to work with: we get the set-up of his dirty dealings with the Mob, which explains his slave-driver nature, and he has to spend the rest of the film being sleazy because that's the purpose of his character. The main characters are all archetypes and the film doesn't make a great deal of effort to challenge these archetypes or make them distinctive beyond the talent attached. The plot of The Ringer is equally formulaic. Because Johnny Knoxville's character is positioned so strongly as the good guy, we know from the start that he's not going to follow through with things. The romance with Katherine Heigl's character is merely an extra incentive to excuse what we know is going to happen. While his final speech about being a cheat is mercifully short - compared to similar speeches in Oscar-bait movies - there is nothing really new being said here. This formulaic feel is reinforced in Blaustein's direction. We get the inevitable training montages, with first Steve's dad and then his fellow competitors putting him through his paces. It's possible to do these scenes well and make them funny (in A Knight's Tale, for example), but here they feel flat and are edited in an all-too-conventional manner. The awkward conversations between Lynn and 'Jeffy' are framed in tight, off-angle close-ups, just like any teen comedy you care to mention. The cinematography to The Ringer also has an oddly plastic quality to it which makes aspects of the film seem all the more unbelievable. The film is shot by Mark Irwin, a frequent Farrelly collaborator who began his career shooting some of David Cronenberg's best work. But this is 'plastic reality' in a bad sense: the primary colours look garish, many shots are slightly overexposed, and the sets have a very tacky feel to them. But in spite of all these problems or shortcomings, there is much about The Ringer which can and should be praised. First and foremost, it handles its central concept (a man pretending to be disabled) with taste and dexterity. In Lars von Trier's The Idiots, people pretended to be disabled in a misjudged and ill-conceived statement of rebellion; we were expected to like Stoffer, who led the movement, but very quickly dismissed him as a pretentious oaf. Here, on the other hand, the filmmakers never condone what Steve is doing, demonstrating the flaws in his father's ableist arguments and using their offensive nature to poke fun at such small-minded attitudes. While many Hollywood productions would ask their actors to mimic a disability, Blaustein and the Farrellys actually cast actors with the same disabilities as the characters they play. If Spinal Cord Injury Zone is to be believed, there are over 150 actors with intellectual disabilities who have supporting roles in the film. Crucially, the film doesn't draw attention to them or give them special treatment; they're treated like every other actor in the film, and that is just as it should be. This reflects the central message of The Ringer: that people with disabilities, of whatever kind, are just as capable of leading a normal and successful life as anyone else. Each of the Special Olympic athletes who get a decent amount of screen time are built up as rounded characters, with their own personalities, aspirations, flaws and power structures. Blaustein and the Farrellys deserve a lot of credit for holding their nerve, putting in the hard yards and never using the characters' disability for any kind of cheap, nasty gag. Knoxville is also a pleasant surprise in the leading role. You'd think that the man behind Jackass might not have the chops to hold our attention beyond the physical set-pieces, let alone charm us. But Knoxville acquits himself well, gradually winning us over and lending at least some credibility to his relationship with an equally decent Heigl. Sure, he's no Robert De Niro, and the script itself isn't great, but as with so much of this film, he's better than we had any right to expect. The Ringer is a slight but pleasant surprise, taking a premise that could have been deeply misjudged and turning it into something respectful and passingly entertaining. While not a great film by any standards in terms of its storytelling and production qualities, it does handle its subject matter with respect without resorting to high-and-mighty rhetoric. If nothing else, like Animal House before it, it proves that bad taste does not always mean bad quality.
Daniel Mumby
Super Reviewer
Comical, but disjointed, The Ringer fails at being an effective comedy that has any real merit. I don't personally think that this film makes fun of disabled people, and I didn't take offence (I have Cerebral Palsy), I simply think that the film given the subject matter could have been much better than what it turned out to be. The film was comical at times, but it lacked anything to really make this comedy stand out. I thought it was nice to see Johnny Knoxville in a comedy other than Jackass, unfortunately, this is not a great comedy, and he is capable of so much better. This film is poorly constructed with tiresome gags that are just not funny. The film had potential in being something better than this, but it failed miserably. This is an awful film with no redeeming qualities, and given a script rewrite, this film could have been good. The jokes don't work most of the time, and though the film has a good intention, it doesn't do anything with the material. The film suffers from its predictability, and therefore by the films end, you really don't care about the characters. This film, like I said could have been good, but with a poor, predictable script, it never succeeds, and it becomes awful by the minute. The Ringer just ends up being a missed opportunity in trying to create a good comedy. The film could have much better than this.
½
Johnny Knoxville playing mentally challenged shouldn't be too much of a stretch for him. What with all the braincells he must have lost during his years in Jackass, he's practically in the special olympics already. Anyways, before this becomes too much of a thesis on Johnny's IQ (or rather to say, lack thereof), let me just mention what I thought of the actual movie. First and foremost, I was surprised in a very positive way in how it deals with the whole concept. Contrary to what you may believe, it doesn't make fun of its special participants, but rather celebrates their great personalities, while giving them a chance to shine on the big screen. Furthermore, it makes a very important statement about how society - out of the worst kind of ignorance - underestimates these individuals and what they're actually capable of. Besides said message, it's also a highly entertaining story with its heart in the right place. I was laughing out loud on more than a few occations - never once feeling the urge to look at the watch. One of my favourite gags is when Johhny (a.k.a. Steve Barker) watch a bunch of movies with his uncle for "research", and between a copy of Rain Man and Forrest Gump, you also see a video marked "Best of Chevy Chase". Now, I don't know about the rest of you, but that sure counts for funny in my book.
The Ringer Quotes
| | |
| --- | --- |
| Yolie: | Jeffy-" It was Jeffies twenty dollar bill!" Yolie-" Yeah, we got that, scuse me , gotta go to the restroom" *rolls eyes* |
| Yolie: | Yeah, we got that, scuse me, gotta go to the restroom. [rolls eyes] |
| | |
| --- | --- |
| Mark: | Do it again and you'll be admiring my butt from the pavement with a straw! |
| | |
| --- | --- |
| Billy: | Sratch! You scratched my CD. |
| Billy: | You picked it up in clear daylight and you scratched it. |
| Steve Barker / Jeffy: | Jeffy just admiring CD. |
| Billy: | Hey don't give me tude! |