Breakfast on Pluto
(2005)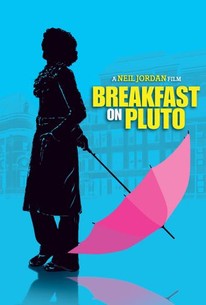 Breakfast on Pluto Photos
Movie Info
An Irish boy becomes an emotional and sexual outcast as the 1960s fade into the 1970s in this period drama from director Neil Jordan. When he was just a baby in the early '60s, Patrick Braden (Conor McEvoy) was abandoned by his mother and left on the doorstep of a church overseen by Father Bernard (Liam Neeson). Placed in a foster home, sensitive Patrick doesn't much care for the emotionally chilly attitude of his new "family," and psychologically buffers himself against the world by writing stories that make fun of Father Bernard and the other authority figures in his life. As he grows into adulthood, Patrick (played as an adult by Cillian Murphy) also discovers that he enjoys dressing in women's clothes and prefers the company of men, and as a teenager he falls into an affair with Billy Hatchet (Gavin Friday), a nightclub performer who also runs guns for the Irish Republican Army. In the early '70s, Patrick -- who has since taken on the drag name "Kitten" -- makes his way to London, where he becomes involved with Bertie (Stephen Rea), a small-time nightclub magician who gives the young man a place to say, a sense of security, and a job as his on-stage assistant. However, Patrick's idyllic life with Bertie proves short-lived when his old friends come to town on IRA "business." Breakfast on Pluto also features a supporting performance from former Roxy Music frontman Bryan Ferry.
Critic Reviews for Breakfast on Pluto
Audience Reviews for Breakfast on Pluto
An orphaned transvestite navigates associations with the IRA and the search for his birth mother. Aside from the chameleon performance by Cillian Murphy as Kitten, there is very little to like about this film. The story is a very basic tale about separation and coming of age that, when it doesn't wreak of cliche, lingers on banalities. Overall, Murphy is the only reason to see the film, but even then, the rest of the film is bound to disappoint.
Jim Hunter
Super Reviewer
Like Patrick McCabe's novel, Neil Jordan's "Breakfast on Pluto" is episodic and fragmented. I did enjoy the way Jordan moves his camera and Cillian Murphy is committed to bringing Patrick Braden to life, but it's far too little to save the film. I found this unengaging and emotionally schizophrenic, a combination that left me feeling alienated. Plus, the chapter dividers are totally unneeded in the film, it didn't work that great in the book and on film it's totally superfluous.
Steven Carrier
Super Reviewer
½
it's a sweet and hopeful tale about a foundling named kitten, growing up strange in an irish town that never understood him, moving to swinging london in search of his long lost mother, and having many adventures along the way. cillian murphy is wonderful as kitten, a somewhat naive character who never gives up on love. takes awhile to get going and it's a bit uneven. i can't say i don't miss the dark days of mona lisa and the crying game but it's a fun film with enjoyable pop soundtrack
Stella Dallas
Super Reviewer
Breakfast on Pluto Quotes
| | |
| --- | --- |
| Patrick (Patricia) 'Kitten' Braden: | What is it with "nancy-boys" that you can't be bothered killing them? |
| | |
| --- | --- |
| Hooker: | Oi. You doing business, do it somewhere else, love. This pavement's got my name on it. |
| Patrick (Patricia) 'Kitten' Braden: | And what, pray, is your name? Concrete? |
| Hooker: | My name is scratch your eyes out, and bite your bleed'n nose off. Which is what I'll do if you don't get off my patch. |
| Mr. Silky String: | She giving you trouble, son? |
| Patrick (Patricia) 'Kitten' Braden: | Oh, no trouble at all. We were just exchanging names. |
| | |
| --- | --- |
| Patrick (Patricia) 'Kitten' Braden: | If I wasn't a transvestite terrorist, would you marry me? |
| | |
| --- | --- |
| Patrick (Patricia) 'Kitten' Braden: | Not many people can take the tale of Patrick Braden, aka St. Kitten, who strutted the catwalks, face lit by a halo of flashbulbs as "oh!" she shrieks, "I told you, from my best side darlings." |
| Patrick (Patricia) 'Kitten' Braden: | Not many people can take the tale of Patrick Braden, aka St. Kitten, who strutted the catwalks, face lit by a halo of flashbulbs as 'oh!' she shrieks, 'I told you, from my best side darlings.' |