The River King
(2005)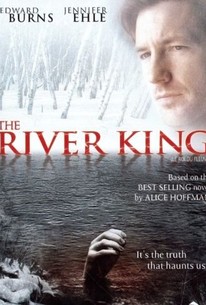 AUDIENCE SCORE
Critic Consensus: No consensus yet.
Movie Info
The body of a prep school student has been discovered in a nearby river, and though the death was originally listed as a suicide one detective believes that it may have actually been the result of a fraternity hazing gone awry in director Nick Willing's snowbound mystery. Detective Abel Grey (Edward Burns) isn't willing to write off the case as a suicide just yet, and with a little help from sympathetic teacher Betsy Chase (Jennifer Ehle) he hopes to uncover the truth behind the mysterious and untimely death. As a series of elusive clues lead Detective Grey ever closer to the truth, he is forced to confront not only the increasingly complex facts in the case of the student death, but his own repressed emotions related to the suicide of his older brother years earlier as well.
Critic Reviews for The River King
All Critics (3) | Top Critics (1) | Fresh (0) | Rotten (3) | DVD (1)
One possible outcome after another is broadly telegraphed as the movie plods along, but most lines of inquiry are never to be resolved.
Sem jamais optar entre uma linha narrativa realista ou fantasiosa, o filme se fragiliza também em função de uma trama frouxa que traz personagens desnecessários e uma conclusão pessimamente resolvida.
March 25, 2006 | Rating: 2/5
A slow-moving, badly-written, and messily constructed whodunit that succeeds in being boring and not much else.
Audience Reviews for The River King
An interesting mystery with a good cast, The River King though has a good story, at times it leaves a lot to be desired and the scripts limitations doesn't make this film great like it's supposed to. The film is entertaining, and the story is engaging, but the film could also have been a lot better. As a whole, The River King is a good film that has a concept for a story, and for most of the film, it's engaging, and entertaining. However there are things that could have been done better. Luckily the cast keep this film from being awful, and the performances here save this film from being a dud. If you enjoy an average mystery film, then this is a good film to watch, but if you're expecting something elaborate, you won't find it here. There are some good ideas at work here, but they never quite get off the ground. Edward Burns delivers a good performance as the cop investigating the suicide of a student at a prep school. Though not a perfect film, The River King has enough good elements to make it an entertaining, if somewhat uneven. I enjoyed the film that it was a good little film, but also thought there was room for improvement. If you enjoy average mystery films, then The River King is the film to see. Entertaining, but flawed. The performances at least were worthwhile. Overall The River King is a good film, but could have been done better, but at least there are far worst films out there.
½
Based on a novel by the same name, The River King is about a cop who finds a body in the river and sees more than the explanation given. Edward Burns is great as Abel Gray, leading a young, unknown cast, with his emotionless persona. He makes the perfect cop, because of this stiff, focused personality. The story was strong, often throwing you off the track you are on, and using flashbacks to tell the background story. The music, montages, and flashbacks throughout the movie help to tell the story of the school, people, and town, almost as much the dialogue does. A pictures says 1000 words, in The River King, many obscure actions and random things have their own words and that helps make it unique.
Todd Smith
Super Reviewer
The River King Quotes
There are no approved quotes yet for this movie.