The Football Factory
(2004)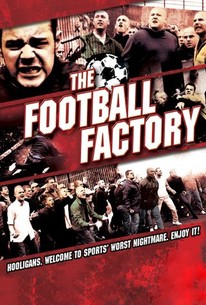 The Football Factory Photos
Movie Info
Testosterone and football combine to paint a violent portrait of middle-class England in director Nick Love's adrenaline-charged adaptation of John King's popular novel. Tommy is your typical twenty-something soccer fan; bored with life, in love with lager, and always looking for a little action from the ladies. Of course there's the fighting, too. When Tommy exchanges blows with a rival football fan and the situation quickly spins out of control, the thuggish sports fanatic is prompted to reconsider his brutal lifestyle and make a change for the better.
Critic Reviews for The Football Factory
Audience Reviews for The Football Factory
½
Based loosely on a novel and directed by Millwall supporter Nick Love who clearly enjoys hard British gangs and fights you start to wonder if he participated in things like these himself. Basically this film is about football hooligans which belong to 'Firms' and enjoy nothing better than to beat the crap out of each other every weekend, whatever your poison I guess. The film is actually pretty decent and does keep you glued to the screen as opposing firms clash, lets be honest here there is nothing else on offer really, you know its about footie hooligans and you just wanna watch them fight, this film mainly follows Millwall and Chelsea. The plot is reasonably interesting as it follows Danny Dyer and his moral dilemma of whether or not to continue being in a firm, nothing amazingly original and not too hard to predict either but like I said you watch the film for the violence period. You know what your getting with this so for a footie hooligan flick its probably the best out there with a good cast of your regular cockney lads. Doesn't paint a very good picture of England lets be honest but truth be told we're just a bunch of hardnuts.
Phil Hubbs
Super Reviewer
If I?m honest (and this will sound like I am stating the obvious here) Football hooliganism is very much all this film is about. It offers no moral to the story, like many of the films in this genre, but a very realistic view of what goes on behind the scenes of the game.

We?re used to seeing Danny Dyer in films containing violence and paired up again with Director Nick Love, this film had the potential to be the film of all Football Hooligan films to me. Now I know I'm a Woman and not quite in my teens any more, but anyone who knows me, knows that I prefer lad movies and don't shy away from the violent ones, it was a watchable film, but didn't haven't anything great about it.
Lady D'arbanville
Super Reviewer
Did not enjoy this at all. It was boring and full of violence and I know that was the point of the film but it's not my thing. It's good in the way it showed people that things go wrong and people can get hurt and I also liked the little side story about the grandfather and dealing with his loss. It shows how people of all ages can die.
Sophie Burgess
Super Reviewer
The Football Factory Quotes
There are no approved quotes yet for this movie.