The Girl from Monday
(2005)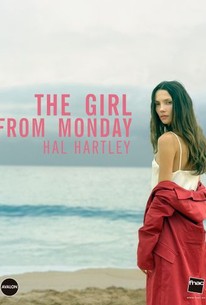 The Girl from Monday Photos
Movie Info
Independent auteur Hal Hartley wrote and directed this satirical exercise in what he calls "fake science fiction." In the near future, following a violent overthrow of the American government, the United States has come under the rule of the MMM, a Multi-Media Monopoly which runs the country as a business. Every citizen now has a personal bar code, which is used to monitor his or her consumption of practically everything, including sex, now that aphrodisiacs have become the nation's biggest consumer product. Jack (Bill Sage) and Cecile (Sabrina Lloyd) are two MMM executives who are vying for the same level of advancement within the organization, while William (Leo Fitzpatrick) is a member of the Partisans, a cadre of anti-MMM activists who are attempting to bring down the corporation's rule, though they are regarded as both dangerous and powerless by MMM's leaders. In the midst of this situation comes a beautiful woman from the planet Monday (Tatiana Abracos), who knows about Jack's little secret -- he's a fellow alien hiding out on Earth. The woman has come to Earth to bring Jack back to planet Monday, but given the currently miserable state of Jack's life, he's more interested in having a relationship with her than heading back home. The Girl From Monday has its world premiere at the 2005 Sundance Film Festival.
Critic Reviews for The Girl from Monday
Audience Reviews for The Girl from Monday
Pretty badly muddled film that tries too hard to say something meaningful. Blurry action, stuttering frames, a voice over from the main character that borders on a monotone, and beautiful bodies that never reveal anything meaningful. The corporation makes the rules, adding commercial value to society is everything, and sex is the coin that drives the economy. Add to that extra-terrestrials who come to earth to retrieve those who have come before, and then get stuck here themselves. Counter-revolutionaries think they are making a difference, but their violence only feeds the appetite of the almighty corporate giant. Dark, moody, and so obscure as to render it almost unintelligible, this viewer really can't recommend it.
Mark Abell
Super Reviewer
½
[font=Century Gothic]"The Girl from Monday" takes place in the near future when a corporation named Triple M has overthrown the government, making everything available - for a price. Jack(Bill Sage) who works for a firm that handles the advertising for Triple M is secretly a counterrevolutionary. He sends a group of kids to disrupt a government news broadcast but something goes horribly wrong and a bomb explodes, killing ten. Distraught, Jack retreats to the beach where he comes across a woman(Tatiana Abracos) appearing out of the ocean.[/font] [font=Century Gothic]"The Girl from Monday" has some interesting ideas about idealism in a corporate culture.(For example, teaching in a high school is a form of forced labor.) But the movie's style is too close to "La Jetee" for it to be considered a success.[/font]
The Girl from Monday Quotes
There are no approved quotes yet for this movie.