Date Movie
(2006)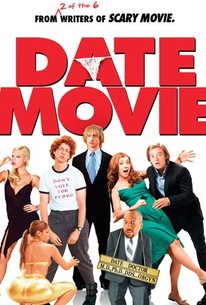 TOMATOMETER
AUDIENCE SCORE
Critic Consensus: In an attempt to parody rom-com cliches, Date Movie ultimately makes a mockery of itself, with juvenile toilet humor and empty pop culture references.
Movie Info
The glorious Hollywood institution of the romantic comedy gets raked over the coals in this broad parody of any number of boy-meets-girl flicks. Julia Jones (Alyson Hannigan) is a young woman who wants nothing more than to find the man of her dreams and settle down. However, Julia has a rather serious weight problem that prevents her from making a positive impression on people. Determined to find love at all costs, Julia somehow drops the weight and meets Grant Fonckyerdoder (Adam Campbell), a handsome and charming Englishman who falls head over heels for her. Julia and Grant waste no time in setting the date, but until they make their way to the altar they have to deal with meddling parents, flaky wedding planners, fights over the right wedding dress, vertically challenged romantic advisors, and Andy (Sophie Monk), a longtime friend of Grant, who isn't so happy to hear he's getting hitched. Also featuring Fred Willard, Jennifer Coolidge, Eddie Griffin, and Tony Cox, Date Movie was written and directed by Jason Friedberg and Aaron Seltzer, proudly billed as "two of the six writers of Scary Movie."
News & Interviews for Date Movie
Critic Reviews for Date Movie
Audience Reviews for Date Movie
The trend of parody films, taking on genre pictures in general, has become tiresome in the past five years or so, but some truly indecent ones are still being made in the current climate. While many of these films have parodied the source material they are based on, they don't have the original spirit of those films, and therefore rely on sight gags and really gross humor. While "Date Movie" is a horrible piece of garbage, manufactured by the same people who brought us "Epic Movie" and "Meet the Spartans," it does hold the spirit of its original content. The plot winds around many beloved romantic comedies, and in the end it's kind of sweet when the couple gets together. In between that charming story, there's a lot of fat shaming, weird visual effects, and gross out humor, as expected from the look of its predecessors. This film may be awful, but at least you can see what it's based around, which just doesn't happen often enough.
Spencer S.
Super Reviewer
Spoof movie encompassing rom coms.
Candy Rose
Super Reviewer
Date Movie is an awful, unfunny comedy that is crude, vulgar and relies on gross-out moments to try and create its humor. The film fails entirely and the comedic elements are horrible. Directors Aaron Seltzer and Jason Friedberg direct this mess, and try to create something funny. Unfortunately they're terrible as a directing team, and they turn Date Movie into another misfire in the parody genre of films. This film is a total mess from beginning to end, and the directors have absolutely no clue at creating effective comedy. If you enjoy great comedies, skip on everything that Aaron Seltzer and Jason Friedberg direct. These two really don't know how to create an effective comedy, and the results are a terrible film that is highly forgettable. If you enjoy parody films, stick films such as Airplane! and Hot Shots! However skip on this film. The comedy elements are so bad that only a person with mental capacity of a vegetable. This film wasn't my kind of film, and it was very bad, and this was one of the worst comedies that I've had the misfortune to see. Skip this film if you want great comedy, as you won't find in here. What you have here with Date Movie is a sad attempt at parody, and it fails all around. I can't understand why anyone would find this funny. If you want a good comedy, skip this film as this is more irritating than actually funny. An awful film.
Date Movie Quotes
There are no approved quotes yet for this movie.