Fallen Angel
(1945)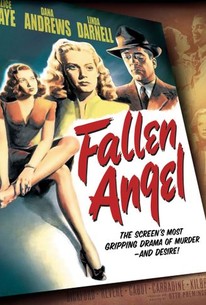 Movie Info
Otto Preminger directed this stylish film noir exercise, intended as a follow-up to his surprise hit Laura. Kicked off a bus traveling cross-country for not being able to come up with the fare, down-and-out press agent Eric Stanton (Dana Andrews) ends up in Walton, a small coastal town in California. Stanton fast-talks Joe Ellis (Olin Howland) into giving him a place to stay for the night in exchange for promoting Professor Madley (John Carradine), a "mentalist" whose show Ellis manages. While in Walton, Stanton makes the acquaintance of June Mills (Alice Faye), a wealthy but reclusive young woman, and has his eye on Stella (Linda Darnell), a good-looking waitress working at the local diner. Thanks to Madley, Stanton learns a few things about June, and when Ellis and the professor pull up stakes after a successful engagement, Stanton opts to stay behind, hoping to win Stella's heart. Gold digger Stella makes it known that she has no interest in Stanton unless he comes into a lot of money, but June has made her interest in Stanton quite clear. Stanton hatches a plan: he'll marry June, take her money, divorce her, and then take up with Stella. Stanton and June do in fact marry, but just as he's about to give her the brush-off, Stella turns up dead. Mark Judd (Charles Bickford), a retired cop-turned-detective, is investigating the murder, and while the initial suspect is Dave Atkins (Bruce Cabot), Stella's ne'er-do-well ex-boyfriend, Judd's focus eventually falls on Stanton. Stanton flees Walton for San Francisco, with ever-loyal June at his side; he quickly abandons her after taking her money, but he returns to her side when word reaches him that June has been charged with Stella's murder. Fallen Angel marked a dramatic change of pace for Alice Faye; however, she was very unhappy with how Preminger edited her performance, convinced that much of her best work ended up on the cutting-room floor. Faye was so angry that she quit the movie business altogether and didn't appear in another film until State Fair in 1962.
Critic Reviews for Fallen Angel
Audience Reviews for Fallen Angel
½
I loved this movie! Andrews and Faye and Darnell were so fantastic in the movie, and the story is exciting, suspenseful, and romantic. I highly recommend it.
½
Good performances but the storyline only works if you buy into the assumption that all men are powerless under the spell of Linda Darnell. Discount that and 90% of the plot becomes illogical and disjointed.
Randy Tippy
Super Reviewer
Doesn't quite stick to the noir playbook but a lot of this film is great - Dana Andrews is rock solid and Otto Preminger pulls some HOT camera moves. Linda Darnell is a classic bombshell who has men diving off cliffs at a single glance. Once you get by the slight noir unorthodoxy - and a couple plot shaggies - you have a very rewarding film.
Bob Stinson
Super Reviewer
Fallen Angel Quotes
There are no approved quotes yet for this movie.