Adam & Steve
(2005)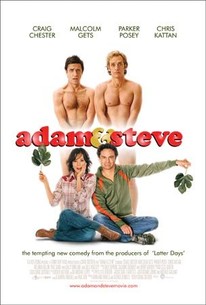 Movie Info
A forgotten one-night stand from the 1980s sets the stage for romance 15 years later in director Craig Chester's romantic comedy starring Parker Posey, Craig Chester, Malcolm Gets, and Chris Kattan. Despite the fact that neither Adam (Chester) nor Steve (Gets) recall the one-night stand they shared 15 years ago, the compatible pair form a fast bond when they meet again far-removed from the intoxicating effects of the party scene. When the loving couple realize that their pasts have previously intersected, it's up to their best friends Rhonda (Posey) and Michael (Kattan) to help their pals accept their past and use the foundation of their current relationship to forge ahead into a fulfilling future of kindness and commitment. ~ Jason Buchanan, Rovi
Critic Reviews for Adam & Steve
Audience Reviews for Adam & Steve
I love this film, it's excellently written with good wit. Some scenes and timing were uneven but generally good. A very funny film that pokes fun of pop culture and satirical. I can't stop laughing throughout the film, although I didn't quite like the toilet humour being used in the beginning. Adam and Steve are gonna be a good couple. Everyone did a great job in the film.
Sylvester Kuo
Super Reviewer
I kinda hated this movie when I first watched it on dvd but I now find it funny enough to be worth watching. It's silly and badly edited. Crag Chester and Malcolm Gets are the most unattractive gay couple I've seen in a movie in a while. There isn't very much chemistry and for characters in their mid-30s, they look tired and closer to 50. The montage towards the beginning and the square dancing are probably the worst scenes. That said, this movie has some really great things on the side to enjoy. When they meet eachother's familys is pretty enjoyable. Parker Posey is amusing as an ex-fat comedian. I actually enjoyed this movie aside from the blah Adam and Steve relationship.
Sunil Jawahir
Super Reviewer
Kind of undecided about whether I really liked it or not. It wasn't horrible, yet not fabulous.
Leigh Ryan
Super Reviewer
Adam & Steve Quotes
| | |
| --- | --- |
| Mary: | This is a crack meeting, tonight's topic is crack! |
| | |
| --- | --- |
| Mary: | I used to be a bi-polar crack addict, but now I am just bi-polar. Yay!!!! |
| Mary: | I used to be a bi-polar crack addict, but now I am just bi-polar. Yay! |
| | |
| --- | --- |
| Rhonda: | Silence! Sober Ones!!! |
| Rhonda: | Silence! Sober Ones! |
| | |
| --- | --- |
| Fiona: | You know, Jesus was a Jew. |