On a Clear Day
(2006)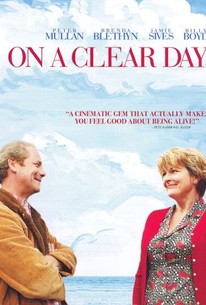 TOMATOMETER
AUDIENCE SCORE
Critic Consensus: Another blue-collar inspirational feel-good British dramedy, On A Clear Day succeeds on the strength of lead actor Peter Mullan's performance and Gaby Dellal's competent direction.
Movie Info
Frank is a hard-working 55 year-old, respected in his local community, who suddenly finds himself without a job. For the first time in his life, Frank is without direction. When his friend Danny jokes that on a clear day he could swim to France, an idea is planted in Frank's mind. Concealing his plans from his loving wife Joan, Frank determines to put his life back together by attempting the ultimate test of endurance -- to swim the English Channel. In so doing he cements a broken relationship with his grown up son.
Critic Reviews for On a Clear Day
Audience Reviews for On a Clear Day
Apparently the U.K has a propensity for these sentimental, sometimes even cloying, crowd-pleasing movies where blue-collar workers, or a community, fight against the odds in order to overcome some emotional baggage. This is another one of those types of films and I'd say this was pretty good, all due in part to Peter Mullan's performance. His performance was certainly a pleasant surprise, because Mullan, almost always, tends to play these tough, mean-looking gangster types. And he certainly looks, and acts, the part as he has a very intimidating presence. In this movie he plays a man with far more emotional 'baggage' on him than his other characters, and I think he does a great job here really. I just think the script is probably a little too sentimental for my tastes. It's certainly easy to see why Frank is the way he is, and why he has pushed his only son away, his other son drowned. But I think the movie probably lays on its message, or its drama rather, a little too thick for my tastes. I think it tries too hard to try to tie the symbolism of Frank swimming the English Channel to what happened with his son to each other. I think ONCE Frank says that he's swimming the English Channel, you'll know the reason why he's doing it. They didn't need to lay it on as thickly as they did. The cast is more than solid, no problem there. Peter Mullan is great here and Brenda Blethyn, an incredibly talented woman, is really good here as well but I wish her character's relationship with her husband would've been better developed. It's like these two spend the entire movie apart and there's ONE scene where they share a sweet moment of remembrance to when they were young and dating. It was supposed to be a sweet scene, showcasing that they're truly in love. I think it would've worked in a movie where the husband and wife spent more time interacting with each other. Even if they're arguing throughout the entire movie, that moment where they recall their younger days would've made the entire thing touching. The rest of the cast is good, but none of the characters really have any actual depth. It's clear I wasn't watching Amour last night. And I'm glad that I wasn't, I chose this movie because I was in the mood for something light. And while the humor is pretty light, there's some interesting dramatic developments here. Even if they're laid on a little thickly. Still, this is a solid movie that benefits from a committed performance from Peter Mullan, and the rest of the cast is more than solid too.
Jesse Ortega
Super Reviewer
A typical working class family offering wherein Dad, one of those blokes defined by his job, suddenly gets the sack and now is in need of some serious redefinition. An engaging cast carries this familiar story with some spirit of devotion.
Kevin M. Williams
Super Reviewer
Laid off Glasgow dock worker tries to find some meaning to his life by swimming the English channel. It's a fairly light, British chum drama that will comfortably fill a spare hour and a half. I found the subplot a rather vague, unnecessary distraction and not all the acting was first class.
Ross Collins
Super Reviewer
On a Clear Day Quotes
There are no approved quotes yet for this movie.