Clean
(2005)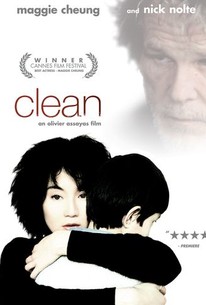 Movie Info
A woman throws herself into a last-ditch struggle to conquer her demons in this gritty drama from director Olivier Assayas. Lee Hauser (James Johnston) is a faded rock star who lives with his wife, Emily Wang (Maggie Cheung), the former host of a European music video show, in a small town in Western Canada. Both Lee and Emily have been battling drug addiction for years, and when Lee finally dies of an OD, Emily finds herself charged with possession of heroin and ends up spending six months in jail. Lee and Emily's son, Jay (James Dennis), has been living with his paternal grandparents, Albrecht (Nick Nolte) and Rosemary (Martha Henry), and while Emily is eager to see her son after getting out of jail, Albrecht persuades her that she needs to get herself clean before she can reconnect with Jay. Determined to get off methadone, Emily relocates to France, where she scares up a job as a waitress and moves in with her old friend Elena (Béatrice Dalle). Emily's attempts to start a new career and stay off drugs prove to be an uphill battle, and she doesn't appear to be winning her fight when she learns that Albrecht and Jay will be accompanying Rosemary to London for medical treatment when Rosemary contracts a serious illness -- and that Albrecht is considering making a side trip to Paris. Clean was screened in competition at the 2004 Cannes Film Festival.
Audience Reviews for Clean
½
Clean works as a thoughtful, smart, and realistic look at drug abuse and the ramifications from it. It features a powerful and nuanced performance by Maggie Cheung and Nick Nolte, albeit in a similar role for him. It doesn't opt for cliched resolutions or answers, but is really quite authentic. At the same time, the film does have an overly slow pace, which borders on meandering, and does seem to occasionally lose focus, at first attempting to introduce various subplots, but never quite paying them off. Still, an effective drama marked by strong acting. 3.5/5 Stars
Jeffrey Meyers
Super Reviewer
½
Impossible not to think about Kurt and Courtney, even if inspite of choosing to bring up a "glamourous" drug and rock n´roll world (or the typical approach of junkies trying to clean up), the movie focus on a woman trying to change her life and to get her son back. Another interesting point is that it´s not really a sweet movie about mother and son knowing each other and getting close. Emily is not likeable and she´s not even sure if she wants to settle down. However, it´s more to a "typical" drama movie than any other Olivier Assayas´s movies (I´ve seen) where "nothing really happens".
Rubia Carolina
Super Reviewer
½
Clean is all about the slow burn. It keeps itself thankfully distanced from the histrionics and melodrama of a typical drug movie, instead immersing itself in the ephemeral dream pace that most indie movies have. For what it's worth, not much actually seems to happen, and the development is far too subtle for most of the idiots on Flixster to comprehend. You can't blame people for finding the movie slow, but the path to recovering from addiction is a slow one. Maggie Cheung completely owned this role. She gives one of the most powerful, troubled, convictive performances I've seen in a very long time. Nick Nolte is great, as well, but this is Cheung's movie. Don't bother picking this one up if you consider yourself even slightly short of attention.
Drew Smith
Super Reviewer
Clean Quotes
There are no approved quotes yet for this movie.