Firecracker
(2005)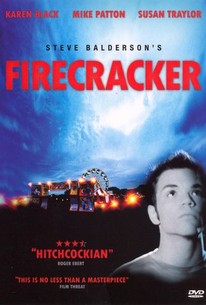 AUDIENCE SCORE
Critic Consensus: No consensus yet.
Movie Info
Meek, reclusive and talented Jimmy is emotionally imprisoned by his abusive, alcoholic older brother David - and fanatically religious mother Eleanor. With evil lurking in the shadows, the sun sets and Jimmy finds escape in the neon glow of a traveling sideshow carnival. With a guise of red satin and the lure of a heavenly voice, Sandra, billed as an "oddity of nature", is the carnival's premier attraction. Jimmy befriends Sandra, unaware that her imprisonment and degradation, at the hands of Frank, the carnival owner, mirror his own. Sandra, taken by his innocence, finds her own inner strength and suppressed dreams. When David disappears, the metaphorical white-picket fences collapse, leaving raw emotions exposed to the spark of truth.
Audience Reviews for Firecracker
Firecracker tells a well trodden story in a surreal way, so reminiscent of David Lynch that I was waiting for the female Shaman to utter "fire walk with me". Taking place in a backwater town in rural Kansas, a sensitive, creative young boy is being held back by an abusive older brother and a coddling ultra religious mother (one of two roles portrayed by Karen Black in the film). When the carnival comes to town, the young boy is drawn to the sexy siren (also convincingly played by Black, even if she is a bit long in the tooth to play such a role) - not knowing that his older brother has had an ongoing affair with Black going back several years whenever the carnival comes to town. Sounds interesting so far, doesn't it? Sad to say the execution, direction, and especially the acting drag this down into a mere curiosity, so banal in parts and overly suggestive of mystical mumbo jumbo in others to be laughable. The carnival aspects of the film give it some interest, compared to the main story of murder and mysticism, but there are so many scenes that add nothing and are so terribly acted (the boss of the carnival seems to have come right out of a high school play, complete with bad make-up), that, along with some gaping plot holes and preposterous reasonings, tempt you to continue watching simply to see how bad this can be. Attempting to be creative, the director chose to film the Kansas parts of the story in black and white, while washing the Carnival in color. Pretty much stating the obvious; that life is bleak for the boy in Kansas, but there's a big colorful world out there (filled with inane characters who cannot act). However, this becomes tiresome as the film switches scenes back and forth - complete with some truly awful editing. The odd Lynchian elements seemed pretentious and thrown in not to advance the story or offer anything profound, but more as an attempt to make the film seem artsy (and failing). A "B" film if ever there was one, and looking as cheap as its minimal budget... another film where you wonder how and why it was made. I also wondered how someone with good acting chops like Karen Black could have a career that never really blossomed. She tries her best here to carry the load, but it's pretty obvious that she is miles above the rest of the cast, in spite of her having to utter some truly ridiculous lines.
paul sandberg
Super Reviewer
One star for the cinematography. The rest was pure crap.
½
The music score and cinematography were good but terrible script and directing. Boring!
Firecracker Quotes
There are no approved quotes yet for this movie.