The Keeper
(2004)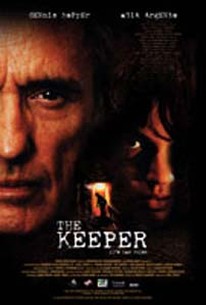 AUDIENCE SCORE
Critic Consensus: No consensus yet.
Movie Info
Deep within the soundproofed confines of his secluded country home, an upstanding police officer harbors a dark secret in director Paul Lynch's tense tale of unjust imprisonment and unhinged madness. On the surface, Lieutenant Krebs (Dennis Hopper) is a respected law enforcement officer with close ties to his community. A glance into Krebs' crippled psyche, however, reveals another, much more malevolent persona. Drifting exotic dancer named Gina (Asia Argento) has been brutally attacked in a near-fatal assault. Offered a ride to the local bus station by the outwardly amiable Lieutenant Krebs after issuing a statement to the local police force, Gina awakens to discover that she is being held captive in an escape-proof basement jail cell with all the discomforts of the county detention center. In the days and weeks that follow, world weary dancer Gina will be forced to wage mental warfare against her increasingly unstable captor if she ever hopes to escape the oppressive lockdown of his basement dungeon and live to tell the tale. ~ Jason Buchanan, Rovi
Critic Reviews for The Keeper
All Critics (1) | Fresh (1) | Rotten (0)
The Keeper is junk, sure. But it's sublime and strange and hugely entertaining junk and kind of floats in its own awesomely tacky orbit.
Audience Reviews for The Keeper
½
I have seen so many bad movies lately it's unreal and i'm not as picky as some people seem to be.I had never heard of this film but it sounded OK when i read the description of it. Some people complained it was copying a movie called the collector which i haven't seen.I don't judge a movie on it being similar to another one anyhow. I actually really enjoyed this film.I really liked Dennis Hopper as the sinister and psychotic sheriff.He was completely off the wall.His chilling performance made me think that something like that could actually happen and nobody would ever know.He was wonderful as someone so twisted and deranged one minute, and then so innocent and trustworthy the next.To be honest I didn't like how it started out because I thought the beginning was too rushed.All you see is some exotic dancer being driven to work by some guy and it wasn't really obvious it was her boyfriend(like the description claimed) as he was more interested in the money she was making then her.Also I thought since she was a stripper it could have at least shown her get naked on stage other then just showing her for a few seconds dancing in a flashy revealing dress and then just skipping to another scene.I don't have a problem if a movie uses nudity if done tastefully.She was a stripper for Chrissake's so it would make sense them showing this for storyline reasons and to make it seem more real and believable.After that then show her saying goodnight to a few friends and the bouncer for continuity.The next scene between her and her boyfriend was pathetic.They had no chemistry and both their characters were not well established.It would have made more sense if he were just a sleazy guy she picked up at the club and took back to a motel room since his only intention was to rob her anyway.I mean what kind of partner would do that to the other!The other part I didn't like was the 2 of them being attacked and her boyfriend getting shot.Even at the end of the movie when the guy in black was arrested there was no motive and the reason was never explored.It made no sense at all the 2 of them would have been attacked the way they were.Also I thought there was more then one attacker dressed all up in black so what happened to the others? I liked Helen Slater in it playing her bitchy role but was confused about how easily she got into the cop's house and her weird obsession for him came out of nowhere.This should have also been explained better unless their idea was to shock and surprise us by giving us no warning that she was as messed up in the head as he was.Oh well, besides that I enjoyed what happened next.It was unexpected and very well acted.From then on the movie got really intriguing.I really liked Asia Argento in the movie because she really nailed the part.She was so convincing in the role that her and Dennis really carried the movie and made it worth watching.I have seen other movies like this where a nut case is holding someone hostage against their will but I think each movie has it's own unique differences and this one was both hysterical( the deputy Rock puppet) and frightening.At times watching this movie I even felt claustrophobic and couldn't imagine being held captive that way by someone so disturbed. I noticed after looking further into this movie that it was a Canadian/UK film and filmed entirely in Victoria BC in Canada.I don't get how time and time again so many damn Canadian movies always seem to be based in American cities when their really not.What is so wrong about these movies actually being based in a Canadian city instead or at the very least the city or town it's actually filmed in.I mean I get it if it's an American film because our cities have forever passed for American ones but when the film itself is Canadian I find it insulting especially when there is no effort hiding the fact it's not the American city they claim it is because of everything you see in the background. Oh well that said I still gave the movie a 3 and a half out of 5 stars. anyhow because I found it enjoyable minus it's few faults and could watch it again.There are far worse movies out there and I wish people would give this one a chance and enjoy it for what it is instead of comparing it to all the other ones which are similar.I also wanted to mention I loved the song at the end of the movie "save me" sung by a group called "fightclub".I have never heard of them but would like to hear more music by them.I hope whoever they are they have a CD out there as well,i'd like to hear it!
MisterYoda ?
Super Reviewer
The Keeper Quotes
There are no approved quotes yet for this movie.