London
(2006)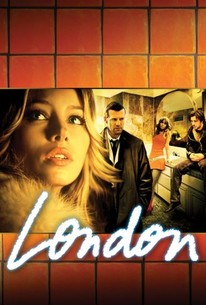 TOMATOMETER
AUDIENCE SCORE
Critic Consensus: Hampered by pretension and undermined by unlikable characters, London proves that the novelty of seeing actors play against type isn't enough to rescue a deeply flawed film.
Movie Info
A party becomes a metaphor for the wasted lives of a handful of young hipsters in this edgy independent drama. Syd (Chris Evans) awakes from the latest in a long series of drug- and booze-fueled benders when he receiving a phone call from a friend informing him that London (Jessica Biel), who recently broke up with Syd, will be moving away from New York for California with her new boyfriend in a few days, and that a going-away party is being thrown for her that evening. Syd hasn't been invited to the bash, but he decides to attend anyway, and brings along Bateman (Jason Statham), a bartender who moonlights as a cocaine dealer. Bateman is carrying a large supply of nose candy, and after arriving at the party he and Syd install themselves in the bathroom, where they snort line after line while guzzling tequila and discussing philosophical matters regarding love, sex, and emotional pain. The private party-within-a-party is soon joined by Maya (Kelli Garner) and Mallory (Joy Bryant), who share cocaine and sympathy with the guys until Syd learns that London has arrived, and he decides it's time to confront her. London was the first feature film for writer and director Hunter Richards.
News & Interviews for London
Critic Reviews for London
Audience Reviews for London
½
As the synopsis shows London is a drug laden adventure which centres in a New York Loft where a young man is trying to win back his girlfriend. at first i thought. 'another cheesy movie'. i don't know what made me watch it but when i was finished i was absolutely GOBSMACKED!. 'London' is such an original and most importantly a very simple movie which is directed to its utmost perfection. Bateman (Jason Statham) is absolutely flawless in this movie as is Syd (Chris Evans). You begin to understand their characters straight away as both actors bring them to life wonderfully... i don't want to spoil the rest for you so ill finish on this note.. 'its a must see' ......
Cassandra Maples
Super Reviewer
½
A lot smarter and realistic than you might expect. It has a really well driven plot and none of the characters are corny or over-the-top like many other post-teen dramas. It shows you how utterly pointless most arguments are, but that there is always a chance for redemption. Chris Evans and Jason Statham are the perfect match together, telling each other life lessons and handing out philosophy. The look, content and message is great, nailing the trust fund baby lifestyle perfectly and not just doing a cop out with numerous party scenes and sex.
Conner Rainwater
Super Reviewer
½
It's sensational entertainment. Riveting, sexy, electrifying and wildly funny. A cool soundtrack. Chris Evans is electric. Jason Statham is brilliant. They deliver terrific chemistry with their pure powerhouse perfromances. This is the type of film that puts you in these characters shoes and makes you feel what their feeling. Well writen and directed. Evans hits you like you wouldnt belive. Statham is an absolute surprise. These two actors give unforgettable performances that show their stellar star capability. A fantastic movie.
London Quotes
There are no approved quotes yet for this movie.