Wong gok hak yau (One Night in Mongkok)
(2004)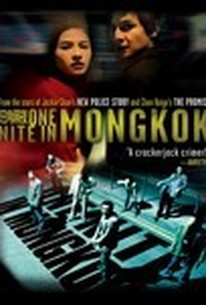 AUDIENCE SCORE
Critic Consensus: No consensus yet.
Movie Info
A deadly car accident threatens to cause a violent gang war on the crowded streets on Hong Kong's Mongkok district in writer/director Derek Yee's thriller One Night in Mongkok. Officer Milo (Alex Fong)'s task force is assigned to the case when a gangster's son is accidentally killed during a drunken dispute with a rival gang. He soon learns that a hitman has been hired to take out the rival gang leader. While Milo and his crew desperately try to find and stop the hired gun, fearing all-out war in the streets, Lai Fu (Daniel Wu), a smart but inexperienced killer from a small town in the mainland, arrives in Hong Kong to do his job. A decent sort, he intercedes when he sees a thug threatening a prostitute at his hotel. She turns out to be Dan Dan (Cecilia Cheung from Running on Karma), from a small town not far from his own. Dan Dan is a very practical young woman, and when she sees the wad of cash Lai Fu is carrying (half of his payment for the job), she pretty much latches onto him. Since she knows her way around town, this turns out to be a help to Lai Fu when he finds out that the contractor who hired him has ratted him out to the cops. As it turns out, Lai Fu isn't really that interested in killing for money, and has an ulterior, more benign motive for his trip into town. But the cops and assorted bad guys are closing in anyway. One Night in Mongkok, winner of the 2004 Hong Kong Film Award for Best Director and Best Screenplay, had its New York premiere at the 2005 New York Asian Film Festival, presented by Subway Cinema. ~ Josh Ralske, Rovi
Critic Reviews for Wong gok hak yau (One Night in Mongkok)
All Critics (3) | Top Critics (1) | Fresh (3) | Rotten (0) | DVD (1)
This sharply edited, melodramatic and sometimes violent thriller shows a succulently seamy side of Hong Kong not often seen in movies.
a taut crime thriller that moonlights as ensemble morality tale and allegory of Hong Kong's post-handover relationship with mainland China.
Sinks us into the muddied moral line between cops and criminals, beaten down by a callous, bottom-line system . . . holds a mirror up to the Hong Kong action thriller and asks us to look beyond the flash of violence.
March 15, 2007
Audience Reviews for Wong gok hak yau (One Night in Mongkok)
½
When street violence spirals out of control, a police unit attempts to cope with the situation and track down a hired killer who proves rather more resourceful than the double-crossing contractor who sells him out had counted on. One Night In Mongkok centres around the criminal underbelly of a district in one of the most densely populated areas of Hong Kong. It involves a dash of social commentary in its portrayal of how rural Chinese flock to the bright lights of Hong Kong to escape poverty only to become treated as a disposable commodity by the ruthless criminals who rule there. Its approach will be familiar to any who have seen the likes of Infernal Affairs or City Of God, falling somewhere between the two in plot and execution. The direction is just the right combination of gritty realism and style and the cast are all strong. The plot relies a little too heavily on coincidence and the usual combination of brutal violence and grey morality all round won't win any awards for originality, but to anyone who enjoys this type of film it's a solid example.
½
well done cop drama...daniel, alex and cecilia all do first rate performing..interesting story..wil hold your interest..easy to follow..compelling frost start to finish..recommended
The story was unexpected. The dialogues were deeply philosophical and unforgettable. The movie truly unearthed the most crowded underground slum near Hong Kong and unveiled the heart of men and women who live in it. Excellent story plot. Highly recommanded.
Wong gok hak yau (One Night in Mongkok) Quotes
There are no approved quotes yet for this movie.