The Oh in Ohio
(2006)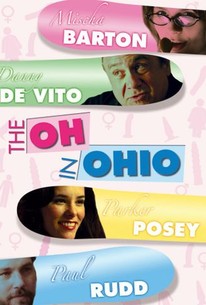 TOMATOMETER
AUDIENCE SCORE
Critic Consensus: A muddled sex-comedy that feels oddly sexless, The Oh in Ohio packs in too many ideas without establishing a clear identity or objective.
Movie Info
A woman gets a belated introduction to the joy of sex in this comedy. Priscilla (Parker Posey) is a thirtysomething public-relations agent with the unenviable job of trying to lure new businesses to Cleveland, OH. Priscilla is married to Jack (Paul Rudd), a high-school teacher who is reaching the end of his patience with his career. Things aren't going especially well at home for Priscilla and Jack -- she seems unable to have an orgasm, and while Priscilla insists she's perfectly happy with their sex life, Jack is driven to distraction by his inability to arouse his wife. When Kristen (Mischa Barton), one of Jack's students, begins displaying an extra-curricular interest in him, he throws caution to the wind and begins an affair with her, and has soon moved out of the house. Left on her own, Priscilla finally begins feeling sexual frustration, and turns to Alyssa (Liza Minnelli), an outspoken sex therapist who advises her to learn how to pleasure herself. Alyssa's advice proved to be right on the money, and soon Priscilla is a changed women who is looking for a new man in her life. She soon finds one in Wayne (Danny DeVito), a swimming-pool salesman whose sloppy appearance belies his talent in the bedroom. The Oh in Ohio was the first feature film from director Billy Kent, who previously established himself making television commercials.
Critic Reviews for The Oh in Ohio
Audience Reviews for The Oh in Ohio
Living in the place where healthy sexuality goes to die, Ohio, a woman's inability to have an orgasm breaks up her marriage and thrusts her into the arms of technology and the Penguin, looking for sexual fulfillment. This film is a morass of missed opportunities. An exploration of how the sexual repression of Cleveland specifically, which is not known for being the Mecca of red hot lovers, and the midwest in general contributed to this woman's issues would have made a compelling plotline, but this theme remains unresolved. Perhaps a brief understanding of how what our society deems as unattractive could actually fit the bill would have made an interesting theme. But no. How about the film portray the importance of a healthy sexual relationship in a marriage? Nah - let's just have Jack move to the garage. This film could have been so much more, but Cleveland, as it is portrayed here, is the same as any other American city, there are no comments or reflections about how Danny DeVito succeeds where the dashing Paul Rudd fails, and ... well, Jack just moves into the garage, rather spontaneously and without much attention paid to the failure of the film's principal marriage. Also, I thought that the Jack plot never resolved. Where does he go from here? Is there a bit of moralizing in his end? Though he engages in an inappropriate relationship, the film doesn't portray Kirstin as a child but as an experienced woman. I thought he deserved better. Overall, if you want to see a movie that could have been so much more, then The Oh in Ohio is the perfect pick.
Jim Hunter
Super Reviewer
Alyssa Donahue: "Now each of you will notice that you have a small hand mirror you on your easels. I want you to discover your vaginas, every glorious fold. every beautiful nook and cranny. This is your power center. Liberate your labia, value your vulva, claim your clitoris. Claim it, christen it!" Priscilla Chase seems to have it all -- the perfect job, the perfect house, the perfect husband -- except for in bed, where sex has always left her a bit short of the finish line. Review Parker Posey got game. If that wasn't evidenced in Party Girl, there's ample proof of her comic gifts in Billy Kent's frosh comedy The Oh in Ohio. That's "oh" as in orgasm, only Priscilla Chase (Posey) doesn't know it yet. She's content with her job luring business to Cleveland. Her husband Jack (Paul Rudd), a teacher and formidable cocksman, is despondent over his frigid wife's inability to come. To save her marriage, she enrolls in a masturbation class (taught by Liza Minnelli), but favors technology instead, and purchases a vibrator from a shop run by an unbilled Heather Graham. Once Priscilla experiences plastic bliss, she's hooked. Marriage ends; life begins. Posey's expert at playing the uptight, pre-orgasmic Priscilla, and the pansexual aftermath (she beds everyone, including Graham). In a classic scene involving a strategically placed vibrating pager and the frantic calls of her husband, she throws herself around in the throes of passion during a boardroom pitch meeting like a priapic marionette. The scene is foolish, but Posey wills it to life. (Earlier, after slipping the pager into her underwear, she calls herself.) Posey's not the whole show. Rudd illuminates the disconnect between sensitivity and aggression, especially when ? after a night with a teenage girl ? he boasts about his "magnificent cock" with bravado and a hint of relief. As Coach, Keith David steals his scenes with impish gleam and a dirty cackle. And Liza Minnelli's masturbation guru is scenery chewing at its finest. The Oh in Ohio could be better. It runs out of steam; the various plot elements never resonate. But a film about a woman discovering not just sex but joy is a wondrous thing. Posey keeps it floating. She's got a shimmer in her smile, a dirty thought in her mind that she's never going to share. You stick around on the off chance that she might just let you in on it.
Lorenzo von Matterhorn
Super Reviewer
The Oh in Ohio is an indie (it stars Parker Posey and that should say it all right there) comedy that seems to revel in its own... indieness. (Not so bad to the point of Juno, but still...) Posey's good, Paul Rudd is his usual great self and Mischa Barton is cute enough to force me to have a whole new appreciation for her. The dynamic between Posey and Danny DeVito was very... I don't want to say sweet so I'll go with pleasant when it managed not to be creepy. The high point was the flowing sarcasm from Rudd but everything else fell short. Especially the ending. If you're into... cute movies this just might be the ticket but if you're looking for a little more than to feel good you might want to pass.
Michael Gildea
Super Reviewer
The Oh in Ohio Quotes
There are no approved quotes yet for this movie.