Superhero Movie
(2008)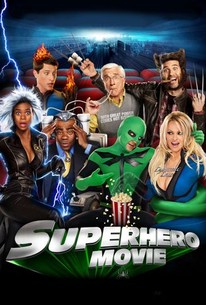 TOMATOMETER
AUDIENCE SCORE
Critic Consensus: Superhero Movie is not the worst of the spoof genre, but relies on tired gags and lame pop culture references all the same.
Movie Info
This spoof on the superhero genre takes on such films as "Spider-Man," "Batman Begins" and "Fantastic Four."
Critic Reviews for Superhero Movie
Audience Reviews for Superhero Movie
Less of a disaster than Epic Movie, but still a crappily written slapstick-cavalcade with hardly a single good joke to offer. Anyone who finds this hilarious is obviously a few fries short of a Happy Meal. Anyway, seeing as it ended up being one of the worst movies I've ever seen, my word of advice is to avoid it by any means necessary. That is, unless dopey humor and a total lack of comedic timing happens to be to your liking.
This movie was funny...Scary movie writen all over it. You don't know what you get when you watch a movie that says "From 2 of the 5 writers of Scary Movie"....It could be crap. It could be good...It was good this time. Not good like good...but...funny...
Martin Sahlin
Super Reviewer
Better than other spoof movies but it has to much of a "been there done that" far to familiar feel to it.
Directors Cat
Super Reviewer
Superhero Movie Quotes
| | |
| --- | --- |
| Uncle Albert: | Ah! The rituals of Man-hood. Today, you have your first beer. And tomorrow we'll circumcise you. |
| | |
| --- | --- |
| Lance Landers: | Watch were your going in slow motion, nerd |
| Lance Landers: | Watch were your going in slow motion, nerd. |
| Lance Landers: | Watch where you're going in slow motion, nerd. |
| | |
| --- | --- |
| Lou Landers (aka Hourglass): | Titanium Blades, They can cut through diamonds! |
| Rick Riker (aka Dragonfly): | ...I'm not wearing any diamonds! |
| | |
| --- | --- |
| Uncle Albert: | How can you say that? I've been like a father to you! I raised you, just like your father did! I believed in you, just like your father did! I slept with your mother, just like your father did! |