Look Both Ways
(2006)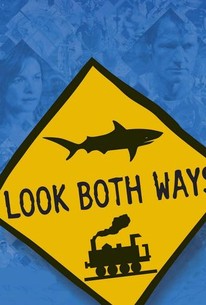 TOMATOMETER
AUDIENCE SCORE
Critic Consensus: With animated sequences adding imaginative quirkiness to the mix, this movie about death and disaster is insightful, empathic, and more uplifting than one would think.
Movie Info
Preoccupation with disasters and a growing sense of mortality threaten to derail the growing relationship between the witness of a train accident and the reporter sent to interview her in this daring drama from emerging Australian filmmaker Sarah Watt. As the weekend draws near, three troubled souls find themselves faced with pivotal, potentially life-changing events. Though the death of her father still looms heavily in her mind, Meryl (Justine Clark) is forced to cut short her bereavement in order to focus on a work-related deadline. While reporter Nick (William McInnes) awaits the prognosis after being informed that he has testicular cancer, his photographer Andy (Anthony Hayes) is preoccupied with his girlfriend's unplanned pregnancy. When a train crashes and Meryl is the sole witness to the horrifying event, Nick and Andy are sent to interview her, sparking an unusual affair between the grieving witness and the troubled reporter. ~ Jason Buchanan, Rovi
Critic Reviews for Look Both Ways
Audience Reviews for Look Both Ways
On the way home from her father's funeral, Meryl(Justine Clarke), an artst, imagines many scenes of catastrophe before witnessing a man being hit by a train, chasing after his dog. Covering the story for the local newspaper is Nick(William McInnes), a photographer, who has just been diagnosed with testicular cancer. Regardless, Andy(Anthony Hayes), a graduate of the Oliver Stone School of Journalism, complains to his editor, Phil(Andrew S. Gilbert), about the photo that is used with his story. In any case, Andy has more important things to worry about like his girlfriend Anna(Lisa Flanagan) being pregnant. I'll give "Look Both Ways" this much. It sure is different with occasional animated interludes but the shark in the pool is a little too obvious. Plus, I admire its willingness to tackle difficult subjects. Sadly, it never quite comes together as it goes from one extreme to another. And the movie also has an alarming lack of focus on characters who even when dealing with extremely important crises somehow also seem very self-involved at the same time, especially Meryl whose moroseness is inferred might originate more from her loneliness than anything else. Or maybe commuter trains in Australia have a very poor safety record, as there are many shots of people walking calmly along train tracks.
A deeply affecting film from first time Australian director Sarah Watt, who also wrote the screen play and did some of the animation. It is about death, and family, and career, and loneliness, and loving, and friendship. In short, it is about life. Terrific actors, a dynamite script, and characters one can identify with brought the story to life for this viewer. Justine Clark as Meryl, a struggling artist, and William McInness as Nick, a photojournalist who has just received devestating news, bear special mention. I watched it twice and found it just as deeply moving both times. Hard to believe this was a first time effort.
Mark Abell
Super Reviewer
NICK: Do you think you're getting over the shock? MERYL: The dad shock or the accident shock? Do you think you can have two at once? Maybe I'm into 'bargaining' on one of them. Y'know, the seven stages of grief. What's the point in knowing where you're up to when you've still got to go through it anyway? This is one of those clever-clever films that feature an ensemble cast of characters who are all linked together in someway without knowing how, in the style of Heights and Crash. Unlike the latter, however, I never felt like I was being continually hit over the head with a stick or that coincidences and links became too contrived or over calculating. Look Both Ways is a film that everyone who has ever thought about or dealt with mortality or grief can relate to. Meryl, whose father has recently died, imagines her death everywhere she goes - train crashes, drownings, STDs. Nick, who has just discovered he has testicular cancer that has spread to his lungs, is on the verge of complete breakdown. Their paths cross at the scene of a train accident, and an unexpected connection is made. If the film sounds depressing, then it is at times, but it is also very thoughtful, funny, observant and beautiful. The acting is first rate (Justine Clarke is particularly brilliant) and the direction is very inventive - Meryl and Nick's thoughts are shown as animation or sped up photo montages and it's a very effective way of showing what they are thinking. The use of songs rather than a music score was also a good decision. Finally, there's another link between two characters that I had almost forgotten about that provide a nice and poignant twist, and the ending is done just right. Fantastic.
Daniel Parsons
Super Reviewer
Look Both Ways Quotes
There are no approved quotes yet for this movie.