Bobby
(2006)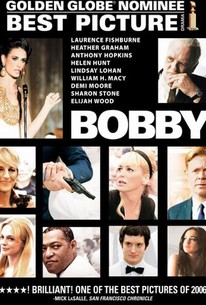 TOMATOMETER
AUDIENCE SCORE
Critic Consensus: Despite best intentions from director Emilio Estevez and his ensemble cast, they succumb to a script filled with pointless subplots and awkward moments working too hard to parallel contemporary times.
Movie Info
Twenty-two people become unwitting participants in a tragic and defining moment of the 1960s in this period drama from actor and director Emilio Estevez. It's early June in 1968, and the California presidential primary elections are occupying the minds of many in the Golden State, with Robert F. Kennedy in a close race against Eugene McCarthy and Hubert Humphrey. The Kennedy campaign staff has set up camp at the Ambassador Hotel in Los Angeles, while the staff and guests become observers as the brother of fallen president John F. Kennedy sets out to pick up where his sibling left off. Paul (William H. Macy) is the manager of the Ambassador, and his wife, Miriam (Sharon Stone), is a hairdresser who runs' the hotel's beauty salon. Angela (Heather Graham) is a receptionist working the hotel's switchboard who has been sleeping with Paul behind Miriam's back. Timmons (Christian Slater) is in charge of the hotel's restaurant and catering department, and makes no secret of his dislike of the African-Americans and Latinos under his employ. Miguel (Jacob Vargas) and Jose (Freddy Rodriguez) are two young Chicanos on the kitchen staff who have it in for Timmons, while Robinson (Laurence Fishburne) is an older black man who counsels them on dealing with their rage. Virginia Fallon (Demi Moore) sings in the hotel's cocktail lounge and has a serious problem with alcohol; her husband, Tim (Emilio Estevez), is a Kennedy supporter and also her manager, and he's nearing the end of his rope in dealing with her problem. William (Elijah Wood) is a young man desperate to avoid being drafted and sent to Vietnam; Diane (Lindsay Lohan) is a pretty young woman dating William's brother who agrees to marry him so William can avoid being drafted, though William is clearly infatuated with her, while she considers this a marriage in name only. John Casey (Anthony Hopkins) is one of the owners of the Ambassador, and Nelson (Harry Belafonte) is an old friend who works at the hotel. And Jack (Martin Sheen) is a wealthy Kennedy campaign financier who is married to Samantha (Helen Hunt), an attractive but much younger woman. Bobby also features Joshua Jackson, Nick Cannon, and Shia LaBeouf as young Kennedy campaign volunteers, while Ashton Kutcher, Joy Bryant, Kip Pardue, and Mary Elizabeth Winstead also highlight the supporting cast. ~ Mark Deming, Rovi
News & Interviews for Bobby
Audience Reviews for Bobby
½
Bobby is an n underrated drama that deserves much more praise. Surrounding the events of Robert Kennedy's assassination, the film follows several characters that will be affected throughout the ordeal. The story is engaging, and it is an important part of history as well, and the cast do a good job in their performances and bring something unique to the film. The film isn't perfect, but it's definitely not as awful as what many critics have said. This is a surprising film that boasts a compelling true story, and even if some of the characters aren't really fleshed out, Bobby does succeed in being a watchable drama that can exceed your expectations. I must admit, with a few casting decisions, I was skeptical, but I was very much surprised and overall, I really enjoyed the film. Director Emilio Estevez crafts a film that is entertaining, dramatic and ultimately enjoyable from start to finish. Bobby is a well directed drama that is far better than what you'd expect. Estevez crafts a very good film and I very much enjoyed it. The story itself is what keeps you involved and despite its shortcomings, Bobby is an accomplished movie that evokes some perfect elements of the genre. Based on the tragic ordeal at the Ambassador Hotel, this is a film that will certainly entertain those intrigued in the subject, but you should know as well that the filmmakers did take some creative liberties to make it more appealing to audiences. However the core of the story is good and it is a movie that shouldn't easily be dismissed. Bobby has its flaws, but is a well acted and directed drama that simply is captivating from the first frame on wards.
Excellent cast. Interesting compilation of characters' lives and witnesses on the day that Bobby was assassinated.
Candy Rose
Super Reviewer
½
Emilio Estevez wrote and directed this interesting take on the day in the life of the famous Ambassador Hotel in Los Angeles ... only the day in question is really important: the day Bobby Kennedy was shot there. And so we see dramatized the mindset of a cross section of the country, hopes, dreams, foibles. The film asks for hope to prevail, especially in the face of loss. Good.
Kevin M. Williams
Super Reviewer
Bobby Quotes
There are no approved quotes yet for this movie.