The Curse of King Tut's Tomb
(2006)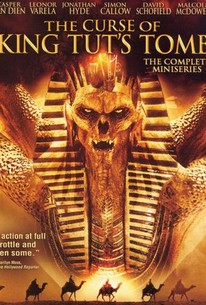 AUDIENCE SCORE
Critic Consensus: No consensus yet.
Movie Info
Discover the centuries-old secrets of King Tutankhamen as two archaeologists race to recover the sacred object with the power to save the world, or destroy it, in this globe-trotting adventure starring Casper Van Dien, Jonathan Hyde, and Leonor Varela, and directed by action veteran Russell Mulcahy (Highlander). The year is 1922, and Danny Freemont (Van Dien) is an archeologist whose outlandish theories about the pyramids, Atlantis, and the Egyptian Book of the Dead have made him something of an outcast in the scientific community. Perhaps no one is more critical of Freemont's unconventional approach to archeology than Dr. Azelia Barakat (Varela), a serious-minded Egyptologist who scoffs at her free-spirited colleague's ideas about King Tutankhamen's mythical tomb. When Freemont determines that the Emerald Tablet rumored to be buried with the Egyptian king will provide its owner with the power to rule the world, Dr. Barakat's curiosity soon trumps her skepticism and the pair quickly set up a team of experts to locate the tomb and find the tablet. Despite Freemont and Dr. Barakat's noble intentions, their efforts to locate and protect the Emerald Tablet threaten to backfire as nefarious archeologist Morgan Sinclair (Hyde) tracks their every move in hopes of beating them to the prize and using the treasure to unleash the ultimate evil. Now, with the fate of the world hanging in the balance, the race to uncover one of history's greatest mysteries is on, and it's going to be a wild ride.
Critic Reviews for The Curse of King Tut's Tomb
There are no critic reviews yet for The Curse of King Tut's Tomb. Keep checking Rotten Tomatoes for updates!
Audience Reviews for The Curse of King Tut's Tomb
Made for TV films are usually a bad idea, and this film is proof of that. This horror thriller film is a poorly written, directed and acted. This is also a boring film, one that has nothing going for it, and it's a shame because if this wouldn't have been made for TV, maybe the film would have had a chance. As it is, it's a poorly written story that is pointless, and not exciting. The film also has some poor special effects, which are laughable, and it just makes this film looks even worse. This is the type of film that is made with no care in trying to make something truly entertaining and watchable. Directed by Highlander director Russell Mulcahy, this made for TV action horror thriller just doesn't grab your attention due to poor performances, lack of any good storyline and awful looking special effects. Don't watch this film because you are simply wasting your time, as the film is just a long, none entertaining bore. Watching paint dry is more exciting than this film. The cast stars Casper Van Dien, who since starring in big budget films like Starship Troopers and Sleepy Hollow is now a B movie, schlock film actor, and it's no secret why. He simply can't act. I think however that it's a shame that Mulcahy would direct this trash because he has made some good films in the past, notably Highlander and Razorback. With this film however, he just wastes his talents on such a poorly thought film, and it shows in the finished film. This film is a ridiculous attempt at horror, one that doesn't succeed and it's a film that fails to really grab your attention.
Entertaining enough, although for a Hallmark movie this wasnt what I really expected from them, most especially with the special effects. This was like, Indiana Jones meets O'Connel and Evey from the Mummy. On the upside, Casper van Dean looked H-O-T-T-T in his half nude scenes, hahaha! LMAO! >;P
The Curse of King Tut's Tomb Quotes
There are no approved quotes yet for this movie.