Relative Strangers
(2006)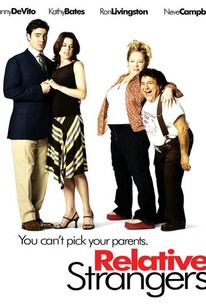 AUDIENCE SCORE
Critic Consensus: No consensus yet.
Relative Strangers Photos
Movie Info
A successful psychologist with a picture-perfect family and a best-selling self-help book that's fast racking up sales hires a dogged detective to investigate his brother's claim that he was actually adopted, only to watch as his life falls to pieces in the aftermath in a dark comedy about success and family starring Danny DeVito, Kathy Bates, Ron Livingston, and Neve Campbell. Dr. Richard Clayton (Livingston) has everything a man could ever want in life: a loving fiancée (Campbell), two loving parents who are always there to support him (Edward Hermann and Christine Baranski), and a career that's on the fast track to success. When Richard's embittered brother (Bob Odenkirk) resentfully tells his sibling that he was adopted, however, the once-thriving specialist embarks on a tireless quest to locate his true birth parents. Though his dreams of finding his biological mother and father fade into a nightmare when a private investigator reveals to Richard that he was in fact conceived by crude carnies Frank and Agnes Manure (DeVito and Bates) -- who subsequently make it their mission in life to make Richard miserable -- the desperate doctor soon finds that even if he can't stand his real parents, he has learned a valuable life lesson from them.
Critic Reviews for Relative Strangers
All Critics (3) | Fresh (0) | Rotten (3) | DVD (1)
...nothing more than a sitcom-level romcom that becomes more and more predictable and flat-out conventional as it progresses.
feels so derivative and warmed-over that it's actually hard to believe that, in 2006, someone decided to make a movie about this topic again.
January 27, 2007 | Rating: 2/5
Audience Reviews for Relative Strangers
Dr. Richard Clayton (Ron Livingston) seems to be living the perfect idyllic life. He is a successful psychologist-turned-writer and his latest book on anger management is doing well. In addition, he is engaged to a beautiful and sexy Ellen (Neve Campbell). But one day his disgruntled and jealous brother Mitch spills the family's dirty laundry that he, Richard, is the adopted sibling of the family. Richie's snobbish uptight parents who are prominent country club members (Edward Hermann and Christine Baranski) concede that it is true. Feeling betrayed Richard decides to track down his birth parents expecting to find upper class educated people to justify his talent and success. At Ellen's urging, he hires a detective to find them. Soon after, Frank (Danny DeVito) and Agnes Menure ~it's French~ (Kathy Bates) from Pekin arrive on the good doc's doorstep and announce that they are his true father and mother. It is a shock, as the Menures are traveling carnival trailer park folks who are the complete opposite of his adoptive parents and brawling country hicks. They eat meat while Richard prefers wheat gluten. They curse and have loud sex in the room next door. The scene where he hides in a closet and is privy to DeVito and Bates having sex on a bed, brought tears to my eyes. They're not anything like he imagined. Can he learn to accept them for who they are and love them unconditionally? Kathy Bates and Danny Devito are a riot playing off each other while Beverly D'Angelo is almost unrecognizable as his tacky future mother-in-law.
Relative Strangers one hell of a funny movie.
Roy Gutteridge
Super Reviewer
Relative Strangers Quotes
There are no approved quotes yet for this movie.