Driving Lessons
(2006)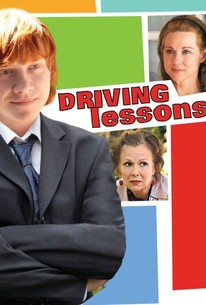 TOMATOMETER
AUDIENCE SCORE
Critic Consensus: Though it has charm, Driving Lessons is a middling offering in the genre where the youngster coming of age meets a quirky senior who teaches valuable lessons about life.
Movie Info
Two strong-willed women wield their influence on a shy teenaged boy in this coming-of-age comedy from the United Kingdom. Seventeen-year-old Ben (Rupert Grint) is the son of a soft-spoken vicar (Nicholas Farrell), but it's his mother, Laura (Laura Linney), who rules the household, and she has put Ben cheerfully under her thumb, keeping him busy with a variety of good-will errands for the church and numerous local charity causes. With summer vacation looming before him, Ben is looking forward to learning to drive, but Laura is more interested in spending time with one of the more charming members of the church staff than helping Ben learn how to operate the family automobile. Wanting to earn some pocket money, Ben starts looking for a part-time job and ends up working for Evie Walton (Julie Walters), an elderly and slightly eccentric actress who needs help keeping her garden in shape. Laura believes Evie isn't an especially good influence on her son, though Ben is happy to find someone who encourages his interest in poetry and the larger world (especially girls). One day, Evie announces that she needs to ride to Edinburgh, where she is supposed to give a reading as part of the city's massive music and arts festival. While Ben doesn't have his license, he volunteers to take the wheel, and soon he's confronted with various forms of decadence that his mother has frequently warned him to avoid. Driving Lessons received its North American premiere at the 2006 Tribeca Film Festival.
News & Interviews for Driving Lessons
Critic Reviews for Driving Lessons
Audience Reviews for Driving Lessons
½
CAST: Rupert Grint, Julie Walters, Laura Linney, Nicholos Farrell, Oliver Miburn DIRECTED BY: Jeremy Brock SUMMARY: A coming of age story about a shy teenage boy trying to escape from the influence of his domineering mother. His world changes when he begins to work for a retired actress. MY THOUGHTS: It was exactly what I was hoping for. An offbeat dark comedy. Light on the darkness though. Julie Walters was brilliant in this movie. She's so funny in this film. First time seeing Rupert Grint in a film besides the Potter one's. He did good in this film. He plays a very shy boy but aged with a poets soul. Just wanted to watch a movie that would make me genuinely laugh without trying to hard, and this film did it for me. Fun movie with some serious stuff going on in it as well. His mother is a bit insane. My opinion, but I don't think many will disagree with that comment. But all in all, a good watch. See it if you get a chance.
♥˩ƳИИ ƜѲѲƉƧ♥
Super Reviewer
½
very charming! rupert grint comin into his own. Julie Walters was GREAT!
Morgan Salem
Super Reviewer
½
Didn't quite go where I thought it would, but it was a good movie. Laura Linney plays the type of mother you would want to strangle to Ruper Grint, also good as a sheltered, shy teen who goes to work for Julie Walters's character who is either eccentric or a bit crazy. Some of it wasn't quite believable, like the girl he picks up (or other way round, to be more exact), but this mostly works and is a good coming of age film.
Nicki Marie
Super Reviewer
Driving Lessons Quotes
There are no approved quotes yet for this movie.