Halloween Night
(2006)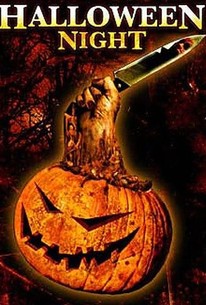 AUDIENCE SCORE
Critic Consensus: No consensus yet.
Movie Info
A psycho escapes from an insane asylum and goes on a killing spree after crashing a Halloween bash in this scary slasher film based on actual events that took place in 1982. Derek Osedach, Rebekah Kochan, Scot Nery, Sean Durrie, Alicia Klein, Erica Roby. Directed by Mark Atkins.
Critic Reviews for Halloween Night
Audience Reviews for Halloween Night
½
The Asylum delivers yet another low budget horror film that fails to make for a truly engaging and horrifying experience. With Halloween Night, the film is a clichéd, predictable affair that never really takes off. This is a clumsy film with bad acting, and a poor story. The only good aspect of the movie is the kill sequences, which are gory and well done considering the film's low budget. I really wanted to enjoy the film, and I liked the way that the killer killed his victims, but the big problem with the film is that it's a predictable movie that it's been done many times before. Along with that, the cast here just make this a laughable affair. No actor on-screen brings anything to really make this film standout. If you're going into this expecting a great horror film, you'll sadly be disappointed. This could have been an amusing film to watch if the cast ands plot would have been better, but it misses the mark. Halloween Night is ridiculous and there is nothing good here aside from the kills. Don't expect anything memorable, you won't find it here. Halloween Night relies on predictable clichés that just makes for a pointless film going experience. Watch something better if you want a truly memorable horror film. If only there would have been more effort put into this film, then maybe the film would have stood a chance. Halloween Night is a poorly made film that doesn't satisfy even if it's got good kill sequences. Watch a different Slasher film instead of this one; you'll be glad you did. This film fails at really being memorable, fun and entertaining.
One of the worst horror films ever made. Terrible acting. Horrible script. Very cheesy. Bad effects...and the killer is very fake looking. This copied way too much off of "Halloween," but hey, what could I say? It's The Asylum.
Jacob Palacio
Super Reviewer
I had given it a 1 1/2 star, but I remembered I had to deduct another half for the "based on a true story" claim that a lot of movies like to use now. As most movies done by Asylum, this movie is the cheap knock off of a popular film; which as you may have guessed, Halloween.
nefnie lee
Super Reviewer
Halloween Night Quotes
There are no approved quotes yet for this movie.