The Invisible
(2007)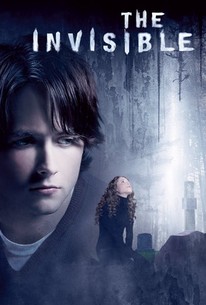 Movie Info
A severely beaten teenager, trapped in a walking purgatory between life and death, must help authorities to the location of his broken body before it's too late in this remake of the 2002 Swedish thriller Den Osynlige. Graduating senior Nick Powell (Justin Chatwin) has plans to attend a prestigious writing workshop in London, despite the protests of his widowed mother (Marcia Gay Harden). In the days before his departure, he gets into a cafeteria brawl with a delinquent classmate, Annie Newton (Margarita Levieva), while defending his friend from her extortion attempts. Annie and her crew track Nick down on the night he's planning to leave, mistakenly thinking he ratted her out to the police regarding a smash-and-grab burglary committed the night before. When the subsequent beating goes too far, the assailants dump the body in the woods in a panicked attempt to dispose of it. Only, Nick isn't dead -- he's walking invisible among his classmates, friends, and family, desperately trying to alert them that he's still alive. Robbed of the traditional forms of communication, Nick must figure out supernatural methods of manipulating his environment -- and he soon realizes the very girl who attacked him may be the only one who has the power to save him. ~ Derek Armstrong, Rovi
Critic Reviews for The Invisible
Audience Reviews for The Invisible
½
The same characters, locales (and target demographics) as the Twilight series ... but a ghost is the supernatural tie-in instead of vampires. Teen angst, misunderstanding, and a alt music soundtrack work to build to a crescendo of blossoming love that doesn't bear scrutiny nor was intended to.
Kevin M. Williams
Super Reviewer
Surprising with it's lack of emotional distance, and excessive violence and hostility, Chatwin is a perfect teenager going through an out of body experience, and Margarita Levieva is a rising star through the sensibilities she comes to terms with, and the path she knows she must tred. Imaginative as well.
Spencer S.
Super Reviewer
½
Pofaced nonsense which takes itself way too seriously but crushily makes up then brakes its internal logic for the afterlife at will which destroyed any suspension of disbelieve. It stumbles along predictably and I only kept watching to see if it got more unbelievable.
Gordon Anderson
Super Reviewer
The Invisible Quotes
| | |
| --- | --- |
| Annie Newton: | You don't have to look for me anymore. |
| | |
| --- | --- |
| Annie Newton: | [Talking to her little brother] Come here little man. Do you know what I want more than anything? Don't be like me... I ruin everything I touch. |
| Annie Newton: | [Talking to her little brother] Come here little man. Do you know what I want more than anything? Don't be like me. I ruin everything I touch. |
| | |
| --- | --- |
| Nick Powell: | Do you remember when my dad died? The first thing she said to me was, don't worry about it Nick, this won't change a thing for you. I'm like 13 right, all I want to do is cry, and she's thinking about my future? She's always had it mapped out. You know I stay here, I might as well retire and die. I mean my dad didn't even get to retire, he was 46 when he got sick... I'm not going to let her do that to me. |
| Nick Powell: | Do you remember when my dad died? The first thing she said to me was, don't worry about it Nick, this won't change a thing for you. I'm like 13 right, all I want to do is cry, and she's thinking about my future? She's always had it mapped out. You know I stay here, I might as well retire and die. I mean my dad didn't even get to retire, he was 46 when he got sick. I'm not going to let her do that to me. |
| | |
| --- | --- |
| Nick Powell: | Your mom dies and your dad marries somebody else, and that makes it okay? Well you know what? Don't blame anyone but yourself, Annie! This is your fault! |