The Year Without a Santa Claus
(2006)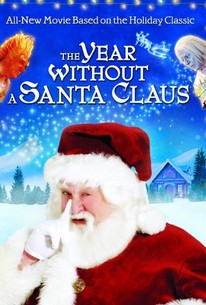 AUDIENCE SCORE
Critic Consensus: No consensus yet.
The Year Without a Santa Claus Photos
Movie Info
Jules Bass and Arthur Rankin, Jr.'s 1974 animated classic comes to vivid life for a whole new generation of viewers in this live action holiday adventure starring John Goodman, Chris Kattan, Eddie Griffin, Ethan Suplee, and Carol Kane. When a depressed Santa Claus (Goodman) announces plans to take the year off after becoming convinced that the masses have forgotten the true meaning of Christmas, loyal elves Jingle (Suplee) and Jangle (Griffin) make it their mission to prove their boss wrong. Saving Christmas is going to be no easy task though, because in order to truly show Santa that the spirit of Christmas is alive and well Jingle and Jangle will first have to settle a longstanding feud between Mother Nature (Kane)'s tempestuous sons Heatmiser and Snowmiser. Perhaps, with a little luck and a bit of help from Mother Nature's notoriously disagreeable siblings, Jingle and Jangle may be able to lift Santa's spirits in time to get his sleigh in flight by the time the sun goes down on the biggest night of the year.
Critic Reviews for The Year Without a Santa Claus
Audience Reviews for The Year Without a Santa Claus
Another adaptation of the book, but is mostly a painful extension of the Rankin and Bass cartoon. This becomes no more apparent than when they decide to just throw in the Heat/Snow Miser songs. In the same sad way that Ron Howard's Grinch used the song from the 60's version. It's a highlight, but it just reminds us how unimaginative and tacky the remake is. We have a needless antagonist that wants to replace Santa with Extreme Santa, and Jangle is obsessed with urban culture and television. Towards the end it picks up, when I forgot the main plot of the film, and it focused on the son and his politician father. Goodman is fine as a cranky Santa, but he's just playing himself. McKean and Fierstein have some fun as the Miser brothers, even though I don't think Fierstein's voice suits the singing sections. The cartoon has more heart, more soul, and doesn't go for forced "humour".
Luke Baldock
Super Reviewer
There are many many many legends how Santa Clause was brought to life, here is my favorite which I was told by a friend long time ago some details I remember: There was a old Man living in Norwegians Forests and he use to make those Wooden Toys for kids who were living in the nearest Village, so every Christmas he went in to Village and brought all those nice Wooden Toys for the Kids. This is all I know.
Watch it to see the live-action version of the Cold Miser and Heat Miser scenes. The Miser brothers were worth seeing; their scenes are faithfully recreated from the '74 Rankin-Bass original; same song too. Harvey Fierstein and Michael McKean play them well. The rest of the movie is terrible to watch. John Goodman looks okay in a Santa costume, but he plays it bored and cranky Santa. The other characters are mostly rude and greedy. The kids are undeserving and annoying. This is not a magical film. Santa's operation is depicted as a business empire concerned with the exploitation of the parents' dollars each year.
Lafe Fredbjornson
Super Reviewer
The Year Without a Santa Claus Quotes
There are no approved quotes yet for this movie.