Ken Park
(2002)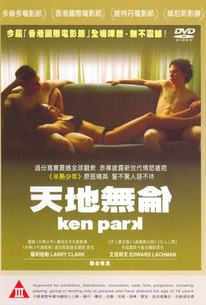 Movie Info
Filmmaker Larry Clark reunites with Kids screenwriter Harmony Korine, with some additional directorial assistance from cinematographer Ed Lachman, for this look at a group of troubled teens and their guardians living in Southern California. The film opens at a skate park, where a troubled character takes his own life; it then proceeds to chronicle the somewhat-interrelated lives of his classmates. The audience is introduced to Tate (James Ransome), a young man living in relative misery with his board-game-playing grandparents. Also tormented by his living situation is Claude (Stephen Jasso), a quiet, shy teen constantly henpecked by his brutish father (Wade Andrew Williams). Meanwhile, the vapid Shawn (James Bullard) occasionally trades verbal spars with his mother, in between leaving the house for sex sessions with his girlfriend's mom. Finally there is Peaches (Tiffany Limos), living alone with her devoutly religious father as she covertly experiments with her boyfriend (Mike Apaletegui). Though Ken Park played at such festivals as Toronto and Telluride in the fall of 2002, it would languish on the shelf for months and months afterward, as its explicit content made finding a U.S. distributor near-impossible.
News & Interviews for Ken Park
Critic Reviews for Ken Park
Audience Reviews for Ken Park
½
Larry Clark teams back up with Harmony Korine after the provocative masterpiece that was "Kids", but this time to far different results. Whereas "Kids" had something legitimately important to say, and used its shock value to do so effectively, "Ken Park" feels like its trying to one up its predecessor without including any of the insight. Whereas "Kids" drew directly from Korine's experiences, this film delves into memories from Larry Clark's past. However, without anything to give the audience besides awe over how insanely controversial it is, the film instead feels like a self-indulgent, pseudo-pornographic retread.
Sam Barnett
Super Reviewer
This is one of those films that has went and pushed the boundaries of the rating system here in America to such an extreme that it is beyond difficult to find this film legally. This is due to the film featuring graphic scenes of abuse, sexuality, suicide, and constant drug abuse done in a way that you rarely, if ever, find in American cinema. With this is mind, it is no wonder that Larry Clark is the man that directed this film and the writer is Harmony Korine. When released, the amount of controversy this film sparked was unbelievable. Years from the time it was released and me hearing all about this film, I finally get to see it. And my main reaction is that Larry Clark has guts to make this film, and in terms of content and how it is shot, this film was ahead of itâ(TM)s time. The way this film is structured is what really gets to me. The main plot (actually lack of) revolves around this kid named Ken Park and his apparent suicide and the impact it has on what little group of friends he had. Over the course of this film, we are introduced to a group of dysfunctional, emotionally destroyed kids and the amount of back ground we get on them is next to none. Aside from basic information mainly saying if the childâ(TM)s parents are alive or not, we are literally thrown into their life and we see things from a nonbiased view point. If this was just a collection of random kids that kind of knew each other, then this idea would of work, and in this film it does. But what I would have liked personally would be some more interacting with the main idea of Ken Park. But with the final scene in this film (graphic, but once over it is powerful in a heart breaking way), it does tie it in but in a depressing way. But still. I would have liked more involvement with the titled character. Which brings me to Larry Clark. I do admire him for his courage on making films that constantly get hated on by the general public. A good chunk of his films have been the subject to censorship, but Clark does take the material at hand and delivers a brutal tale of kids and their lives. In a way, I do group this film with his earlier collaborations with Korine: Kids and the stand alone film Bully. In these three films, there is the reoccurring trend of showing inner city kids and the life we donâ(TM)t know they lead. Or more so, the life we want to forget about. Kids was brutal in showing how adults never look after kids. Bully was an example of how parents given up on their children. Ken Park shows how kids have given up on themselves. Is this film as well directed as the previous mentioned films? It is not, which is sad seeing as how I loved the direction of Kids and Bully. Clark did an okay job with this film, but I would have liked to see more direction and focus on the main idea. Harmony Korine has to be one of the few true writers of realistic dialogue in the film world. By realistic, I do not mean in the way Quentin Tarantino writes his. I mean more along the lines that Korine knows people like this, records their dialogue, and just writes them down on paper. With this film, it is more like he tries to create his own linear story lines, and it is okay. But when he is attached as writer, I kind of hoped for a bit more spontaneous and shocking. Here, it is shocking in terms of actions, but not as to what is said. Korine is a writer I admire, and this film I would have liked a bit more. I liked what I saw, but I wish it was more natural. With this filmâ(TM)s acting, it is mediocre. I mean, the young eighteen year olds that worked on this film did handle the nude scenes with complete maturity, but when acting wise, it was not really what I would have liked. It is just, kind of staled. No one really stood out to me besides Amanda Plummer being in this film. Girl, you are the daughter of Christopher Plummer (actor in The Sound Of Music and The Girl With The Dragon Tattoo). Why are you doing films like Ken Park and Satanâ(TM)s Littler Helper? You did the great Pulp Fiction, and this is the film you do? I liked this film okay, but you have the ability to be a great actress. In this film, you just donâ(TM)t shine. There you have it: Ken Park. A film bashed for itâ(TM)s brutal cinematography and harsh direction. In this day and age, it is kind of over rated. This film, at the time of itâ(TM)s release, was shocking, disturbing, and showed filming styles (like full frontal male nudity) done in a way that it wonâ(TM)t be until years later used, but Larry Clark just did not direct this film in a way that was as powerful as Kids or Bully. Good film, but one that I would say watch Kids and Bully instead.
Zach Brehany
Super Reviewer
I suppose I am just destined to never understand why people find Larry Clark so goddamn interesting! After enduring Kids and sifting through Bully, I heard about Ken Park and my friend assured me that Clark rights the wrongs of the previous films with this one. Again it was completely over the top and made little or no real statements about youth or its culture. Granted its not as gratuitous as his other movies, but in fairness that just made it blander to the pallet. Clark films just remind me of a very badly put together soap opera in which everyone is sleeping with everyone, and who they aren't sleeping with they're either beating or stabbing. A very overrated filmaker in my opinion that never fails to disappoint and indeed bore me.
Unknown Hobo
Super Reviewer
Ken Park Quotes
There are no approved quotes yet for this movie.