The Boss of it All (Direktøren for det hele)
(2007)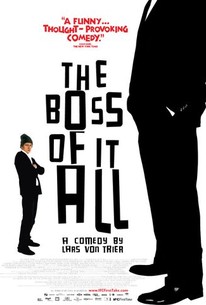 TOMATOMETER
AUDIENCE SCORE
Critic Consensus: Director Lars von Trier ditches the pretensions but keeps his misanthropy in The Boss of it All, a surprisingly sharp and witty comedy about office life gone haywire.
The Boss of it All (Direktøren for det hele) Photos
Movie Info
Lars von Trier's black comedy The Boss of It All (Direktøren for Det Hele) concerns an IT company owner who -- in need of a figurehead to "hide behind" when confronted with employee problems -- invented the personage of a CEO during the startup period for his corporation. The scheme worked for a surprisingly long period, but when the time arrives to sell the business, massive problems arise -- for the prospective buyers insist on only negotiating with the CEO, in person. Thus, the owner further extends the ruse, by hiring a down-and-out actor to impersonate the chief officer. With Direktøren for Det Hele, von Trier uses a new means of filmmaking for this film: Automavision, whereby filming is done with an "automatic randomized camera" that selects the shots. It became a means for Von Trier to "clean up" his approach to directorial work and reconnect with his own love of filmmaking. ~ Nathan Southern, Rovi
News & Interviews for The Boss of it All (Direktøren for det hele)
Critic Reviews for The Boss of it All (Direktøren for det hele)
Audience Reviews for The Boss of it All (Direktøren for det hele)
I think The Boss of it All is the only von Trier film I truly dislike. Breaking the Waves was another, initially, and though I definitely still have my misgivings about it a second viewing sort of brought me around on the film's merits. This is a marginally clever treatment of viewership and an unconventional look at comedy in general, but in the scope of his filmography I don't think it really offers anything new. The idea of him creating a comedy so heavily reliant on cliche that he himself has to apologize through narration for the film is sort of interesting, but the novelty doesn't sustain 98 minutes' worth of viewing. It's funny how intent can so radically change a comedy's reception. This is, all told, the most generic office comedy of errors you could possibly imagine, and some people seem to think it's exceptionally funny. It's really not even remotely on its own terms, with von Trier's lampshading providing the only real chuckles, and even that isn't all that inspired. Not recommended, unless you're hellbent on watching all of his films.
Drew Smith
Super Reviewer
½
Pretentious & unengaging, Comedy,Von Trier style
Disappointing update to the Dogme school restrictions with an automavision shooting system. Von Trier may have found it an interesting technical exercise but it added nothing to the format for me. The sense of humor is assumably hilarious in Denmark but it didn't tickle me. The plot loses its tenuous grip on reality altogether at the end.
Gordon Anderson
Super Reviewer
The Boss of it All (Direktøren for det hele) Quotes
There are no approved quotes yet for this movie.