Antikörper (Antibodies)
(2007)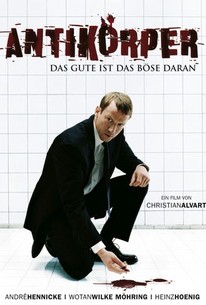 TOMATOMETER
AUDIENCE SCORE
Critic Consensus: It's derivative and its more ambitious aspirations don't amount to much, but Antibodies remains a reasonably diverting and well-made thriller.
Antikörper (Antibodies) Photos
Movie Info
When a notorious German serial killer is captured after committing some of the most heinous acts against humanity ever imaginable, a farmer and police officer from a sleepy rural community on the outskirts of Berlin is drawn into the case as he searches for the answers to a murder that has shaken his tight-knit community in director Christian Alvart's tense psychological nightmare. Gabriel Engel (André Hennicke) is the most depraved kind of predator imaginable. In his brutal and bloody killing spree, Engel has preyed on not only adults, but defenseless young children as well. Now Engel has been captured by the authorities, and the shaken citizens can all breathe a little bit easier. All except for Michael Martens (Wotan Wilke Moehring), that is. It's been a year since young Lucia Flieder was found viciously slain, and the citizens of the community that Martens presides over are growing impatient as they await the capture of her killer. Engel has admitted to 14 murders, but he has staunchly denied any connection to the Flieder case. Nevertheless, he claims to know the identity of the killer. Before he entrusts Martens with the sensitive information, Engel demands that Martens allow him to engage in a total psychological evaluation of his interrogator. With a convicted maniac gradually working his way deep into Martens' fragile psyche, an urban police force who derides the rural lawman as an ineffective incompetent, and a family life that is slowly coming unraveled, the once determined police officer slowly feels himself succumbing to the madness that encircles him with each step closer he gets to realizing the true identity of Flieder's killer.
Critic Reviews for Antikörper (Antibodies)
Audience Reviews for Antikörper (Antibodies)
Splendid German made serial-killer thriller. Yeah it's very similar to the likes of "The Silence of the Lambs" and "Se7en" but it's's still gripping and grisly enough for fans of the genre to enjoy with a plethora of twists to keep you hooked till the end. André Hennicke is creepy in the extreme as the sick paeodophillic killer. The films ending is an odd one but it doesn't completely ruin the film. Worth a watch!
½
Not since the movie "Seven" has a dark thriller been as disturbingly exciting to watch. Slow at times, but those moments are needed to catch your breath!! As far as psychological thrillers go, this one is hard to beat! Only flaw is reading subtitles distracts from the tension!
Thomas Johnston
Super Reviewer
½
"What did you expect? Hannibal Lecter?" Long wanted serial killer Gabriel Engel gets arrested in a spectacular police strike. Small town cop Michael Martens travels to the big city to interrogate him. He associates a brutal murder case with the killer's method and hopes to close the case by getting a confession from Engel. Instead the clash of the two totally opposite characters shakes Michaels beliefs to the ground, turning him into a dangerous threat to the people around him.
REVIEW
This is a very dark, very twisted, very well made serial killer flick that has much in common with Michael Mann's "Manhunter" and Demme's "Silence of the Lambs". It has what some would call an aberrant sexual slant. After a suspected serial killer with a Hannibal Lector-style genius is finally captured, a country cop is brought in to get the psychopath to spill his guts. What he spills embroils the cop in a complex web of dark sexuality and strange discoveries involving his own family. Director Christian Alvart maintains the tension and does not shy away from disturbing imagery. The material involving the murders of children is potent but not gory. One scene involving a girl slashed upwards from the vagina is suitably horrific. Special mention must go to composer Michl Britsch for his disturbing, industrial score. This grim German film that explores the darkest recesses of human behavior is an absolute winner.
Lorenzo von Matterhorn
Super Reviewer
Antikörper (Antibodies) Quotes
There are no approved quotes yet for this movie.