Until Death
(2007)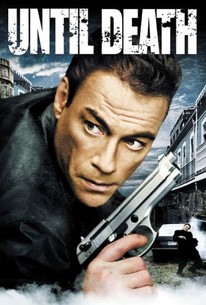 AUDIENCE SCORE
Critic Consensus: No consensus yet.
Movie Info
Upon awakening from a deep coma, a troubled police detective sets out to rescue his wife and seek vengeance against the men who nearly took his life. Anthony Stowe (Jean-Claude Van Damme) is a heroin-addicted detective attempting to take down the city's most powerful drug lord. His life is in shambles, his wife is pregnant with another man's child, and when the bust goes awry, two of his fellow officers end up dead as Lowe lies in a hospital bed hovering between life and death. Miraculously, Lowe eventually wakes up from his trauma-induced repose. While he once thought his life couldn't get any worse, however, the ailing detective is shattered to learn that the very same men he had nearly died attempting to apprehend have kidnapped his wife. Now left with nothing to lose and every reason to live, the same man who had once written his own life off determines to rescue his wife and ensure that justice is served no matter what the cost.
Critic Reviews for Until Death
All Critics (2) | Fresh (1) | Rotten (1) | DVD (2)
Starts out strong ... But after the 42 minute point, it turns into the action movie equivalent of Regarding Henry.
...who could've ever predicted that Neil Jordan regular [Stephen] Rea would be out-acted by the Muscles from Brussels?
Audience Reviews for Until Death
A nice change for Mr JCVD here, he plays the anti hero whom everybody despises in his local police station. Mr JCVD is a bad cop who has a drug addiction which clearly affects his judgement leading to an undercover cop getting killed by another ex-cop friend of his who also turned into a bad guy...must be something in the water huh. Its clear this is where Jean Claude has turned the tables and started to take roles with a bit more meat, roles that challenge his acting skills where he isn't just a kicking machine, and it works. Of course there is still plenty of gun action and Van Damme is still a bad ass but there is a strong undercurrent of real acting involved too and he's not too bad. The film is held up with the help of Rea as the ex-cop turned drug kingpin (massive career swing there and it seems to be going well for him) who sneers his way through the action until the rather predictable conclusion. Yes its predictable and still cliched like all action thrillers but the European version has a different ending which does have a slightly original twist...for Van Damme anyway. Still can't escape the 'straight to DVD' abyss but this admittedly is a much better film than his other action fluff, the Euro version has the better ending.
Phil Hubbs
Super Reviewer
½
Not bad but not great either, its kind of a waist and fails to have an active plot.
Falls into the trailer made it look so much better category. Pity but very run of the mill action film. Oh and don't expect to see any martial arts in this!
Until Death Quotes
There are no approved quotes yet for this movie.