On the Riviera
(1951)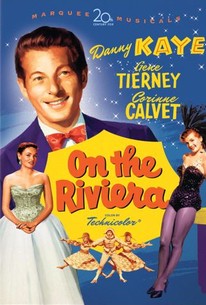 AUDIENCE SCORE
Critic Consensus: No consensus yet.
Movie Info
On the Riviera is a remake of 1941's Weekend in Havana, which in turn was a remake of 1934's Folies Bergere. The plot remains the same in all three incarnations: for business purposes, a nightclub entertainer is coerced into posing as his look-alike, a powerful financier/aviator. This time it's Danny Kaye who essays the dual role of American cabaret comedian Jack Martin and French financial wizard Henri Duran. While impersonating Duran, Martin is forced to make amorous advances towards Duran's neglected wife (Gene Tierney), proving himself the better lover in the process. Meanwhile, Martin must mollify his genuine sweetheart (and nightclub partner) Collette (Corinne Calvet) without revealing his ruse. A little too top-heavy in the plot department, On the Riviera must be regarded as a second-echelon Danny Kaye vehicle, though Sylvia Fine's specialty numbers -- especially the eerily autobiographical "Popo the Puppet" -- are well up to standard. One of the uncredited specialty dancers is future Broadway star Gwen Verdon.
Critic Reviews for On the Riviera
All Critics (2) | Fresh (2) | Rotten (0)
There are stronger Danny Kaye films out there, but 'On the Riviera' is perhaps the best showcase for all of the performer's talents . . . and it's entertaining enough.
Minor Danny Kaye romp, with some pleasant surprises.
December 1, 2005 | Rating: 2.5/5
Audience Reviews for On the Riviera
Danny Kaye does impressions of Maurice Chevalier and Carmen Miranda as sort of a tribute respectively to the first incarnations of this film, as well as a posh Brit guy and a posh French guy and there are some location shots of the French Riviera with sunbathing babes circa 1950. There's a couple of production numbers that'll do in a pinch, but let's not get excited. The whole effort has the feel of a day job with all concerned. The one bright spot is the puppet number wherein Sylvia Fine, Kaye's wife and songwriter, makes some under-the-table and pointed comments about her marriage partner through the conceit of the song number. Yikes. The rest is standard issue Hollywood glam, with the prerequisite "as filling as white bread" subtext.
Kevin M. Williams
Super Reviewer
On the Riviera Quotes
There are no approved quotes yet for this movie.