Tortilla Heaven
(2007)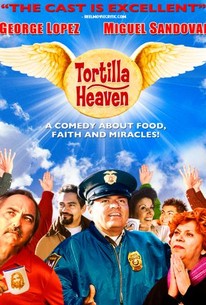 Movie Info
A tightly knit New Mexico community devoted to God, family, and fresh Mexican food is unexpectedly thrust into the national spotlight when the face of Jesus Christ appears on a tasty tortilla as the owner and head cook prepares for the Sunday lunch rush. Isidor Navarro (José Zuñiga) is the owner and proprietor of Tortilla Heaven -- a modest Mexican restaurant located in the remote town of Falfurrias. Though Tortilla Heaven may indeed have the best food in all of New Mexico, the only people aware of the restaurant are the 72 other residents who live in Falfurrias. All of that changes one fateful Sunday, however, when the citizens of Falfurrias file into church to pray the Lord's Mass and Isidor steps into the kitchen to make some fresh tortillas. When the dough that morning proves especially hard to handle and Isidor curses the difficult mixture before slamming it down on the grill, the God-fearing cook is suddenly taken aback when the face of Jesus Christ appears on the burnt tortilla. Of course, in a tiny town like Falfurrias it's impossible to keep a secret, and the very next day curious citizens are filing into Tortilla Heaven to find out if there is any truth to the rumors concerning a divine flatbread. As Isidor realizes the moneymaking potential of the culinary anomaly and begins to charge admission, worshipers begin to appear from all corners of the state and Tortilla Heaven soon begins to turn a tidy profit. Later, after a series of incredible miracles are attributed to the tortilla, a shady city slicker named Gil Garcia (Miguel Sandoval) appears at Tortilla Heaven throwing around such words as "expansion" and "franchising." It doesn't take much for Gil to convince Isidor to sign on the dotted line, and it's only when greed begins to plague the citizens of Falfurrias that the true miracle comes to light.
Critic Reviews for Tortilla Heaven
Audience Reviews for Tortilla Heaven
There are no featured audience reviews yet. Click the link below to see what others say about Tortilla Heaven!
Tortilla Heaven Quotes
There are no approved quotes yet for this movie.