Distortion
(2006)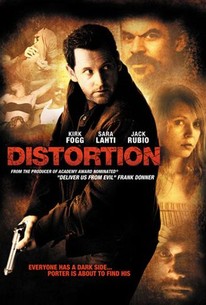 AUDIENCE SCORE
Critic Consensus: No consensus yet.
Movie Info
Former Legends of the Hidden Temple host Kirk Fogg goes from Nickelodeon game show to gritty street thriller as the director and star of this stylish mystery about a drug-addicted, former undercover cop searching for his missing girlfriend in the dangerous Los Angeles underworld. Porter (Fogg) has just been involved in a drug deal gone horribly awry, and now he and girlfriend Rachel (Sarah Lahti) are attempting to lie low in a warehouse currently being used as a porno studio. When Porter learns that Rachel has cut a deal with the sleazy producer who runs the studio in order to bankroll the couple's flight from the city, he shamefully numbs himself with drugs as Rachel turns tricks in front of the camera for cash. Later, Porter makes a hazed-out attempt to prevent his girlfriend from completely debasing herself that ends with him blacking out and being left for dead on the banks of the L.A. River. Though he attempts to go to the police in hopes that they will help him locate Rachel, the officers all know about Porter's sordid history and fail to grasp the true gravity of the situation. Realizing that in order to save Rachel's life he will have to go it alone, strung-out Porter steals a car and hits the streets in a frantic bid to rescue his girlfriend before she becomes another inner-city statistic.
Critic Reviews for Distortion
All Critics (1) | Fresh (0) | Rotten (1)
Fogg insists on showing us again and again that he can handle the mature material, when he should be worrying about telling us an interesting story.
Audience Reviews for Distortion
Deciding to pull director and lead actor duty in Distortion, Kirk Fogg manages to distort on both levels. With only 80 minutes of story to tell, Distortion has a difficult time getting to its finale. The film drags consistently with scenes that never end soon enough. Throw in a lot of slow motion, a senseless flashback segment, and another that only works at the end to get a film that comes together as a complete waste of time. For a mystery suspense adventure, there is little to no suspense, but there is a ton of mystery, albeit it's careless. The action is also slim pickings. Kirk Fogg overacts in a lot of places and he has an unlikable character, even with a back story that tries to deliver some sorrow. The rest of the cast is forgettable. Distortion has nothing to offer other than a waste of 80 minutes. Hard pass.
Distortion Quotes
There are no approved quotes yet for this movie.