The Contract
(2006)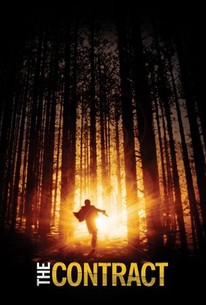 Movie Info
Attempting to recover from a recent family trauma by escaping into the woods for a peaceful hiking trip, an ex-lawman and his young son stumble across a dangerous contract killer in director Bruce Beresford's forest-bound thriller. Ray Keene (John Cusack) has lost his wife, and now the grieving father is looking to reconnect with his young son (Jamie Anderson) with a much-needed hike into the wilderness. But Ray and his son aren't alone in nature, because high profile assassin Frank Cardin (Morgan Freeman) has ventured into nature with the malevolent intentions of fulfilling a contract to kill an extremely powerful businessman. When Frank's hit goes awry and he ends up in the custody of U.S. Marshalls, the situation quickly spins out of control as a small army of loyal mercenaries draw their guns in a violent attempt to free their notorious compatriot. Later stumbling upon the chaotic situation, Ray does his best to protect his son while ensuring that Frank doesn't escape justice. Though Frank's men aren't willing to let their boss go to prison without a fight, Ray vows to do the right thing as help suddenly comes from the most unlikely of places.
Critic Reviews for The Contract
Audience Reviews for The Contract
½
A very lame, completely undistinguished, instantly forgettable thriller. With poor effects and plenty of phony sets and backdrops, there's an unmistakable whiff of cheapness to the production. The characters are pretty much all stock caricatures and some of the supporting performances are terrible. If I must have grown men playing in the woods, I'll take Roger Spottiswoode's Shoot To Kill, the first Rambo or even William Friedkin's not-so-hot-itself-but-better-than-this The Hunted.
½
My predicted rating: 3 Entertaining and easy watching, but it is just a story with nothing special to pull out of the bag. Worth watching if it comes on tv, but missable if you don't.
Lady D'arbanville
Super Reviewer
Probably one of the less interesting films of such great names like Freeman or Cusack. The setting isn't even half-bad, but very constructed. The delivery is mediocre at best. Considering this is a thriller, very few exciting things happen. It all stays very predictable and leaves the audience somewhat indifferent. The solution is somewhat random, too. Not boring by any means but entirely fails to enthrall or engage the audience. Which is quite a pity considering what the two male leads could be capable of.
The Contract Quotes
There are no approved quotes yet for this movie.