Ehi amico... c'è Sabata, hai chiuso! (Sabata)
(1969)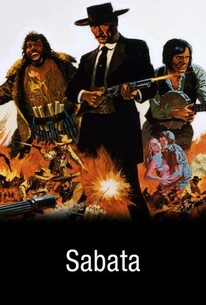 AUDIENCE SCORE
Critic Consensus: No consensus yet.
Ehi amico... c'è Sabata, hai chiuso! (Sabata) Photos
Movie Info
Spaghetti Western fans used to the likes of Django and The Good, The Bad and the Ugly might be taken by surprise when watching Sabata. True, the film does star spaghetti Western star Lee Van Cleef as the tight-lipped hero of the title, but it has a very different feel from the genre's traditional, Sergio Leone-derived style. Director/co-writer Gianfranco Parolini (alias Frank Kramer) takes things in a direction that seems to fall halfway between The Wild Wild West TV series and a James Bond movie; the film is packed with colorful characters, exotic weapons, and the action scenes that mix wild stunts with pyrotechnics. Parolini appropriately gives the film a light touch, playing up the colorful and humorous aspects while delivering the action. The end result is a little too long for this sort of light material, causing it to drag a bit in the middle, but it is too good-natured and entertaining to dislike. In short, Sabata is likely to make fun viewing for Euro-cult fans and anyone interested in an offbeat Western. ~ Donald Guarisco, Rovi
Critic Reviews for Ehi amico... c'è Sabata, hai chiuso! (Sabata)
All Critics (3) | Fresh (2) | Rotten (1)
Though it's a little rough around the edges from a technical standpoint, this high-octane, cult Spaghetti Western still offers plenty of unique, stylized fun.
The movie has a snappy pace, fierce style, and bursts of aggression, keeping genre elements alert as it details a peculiar story of blackmail.
Audience Reviews for Ehi amico... c'è Sabata, hai chiuso! (Sabata)
I've seen an expert consensus list that ranks "Sabata" as the 21st best spaghetti Western. I guess that I won't be finding many more spaghetti Westerns to enjoy, because this film is hardly essential. Derivative and clumsily directed, and the musical score is only average. The most interesting feature is Sabata's muscular crony Alley Cat (Bruno Akmar), a genuine acrobat who performs some amazing tumbles. But William Berger (and his inescapable smirk) is remarkably annoying as "Banjo," the only man who becomes a serious challenge for trick-gunslinger Sabata (Lee Van Cleef).
Eric Broome
Super Reviewer
So, am i the only one that noticed that Sabata and Sartana are very similar? They dress the same, they have cool gadgets and all sorts of clever tricks to kill the bad guys. Considering the SW defined itself with the lone anti-hero with ambigous morals it's no surprise to find so many coincidences. There's only one year apart from each film, so....anyway. As for the film, fun stuff, would feel more fluid having 10 or 20 minutes less. Cleef is obviously a different kid of badass from Gianni Garko. The always solid William Berger provides a good supporting role, catchy theme song, good times.
Tsubaki Sanjuro
Super Reviewer
Not really a great movie, but it's essentially the continuation of Colonel Mortimer from For a Few Dollars More. This is less rich when it comes to storytelling and direction, but it's still fun in it's own right. A classic gunslinger story that includes a number of double crosses and manslaughter. It's also the inventor of the shotgun guitar, by far one of the most outlandish ideas. If you're a fan of Lee Van Cleef it's definitely worth it.
Conner Rainwater
Super Reviewer
Ehi amico... c'è Sabata, hai chiuso! (Sabata) Quotes
There are no approved quotes yet for this movie.