Tara Road
(2005)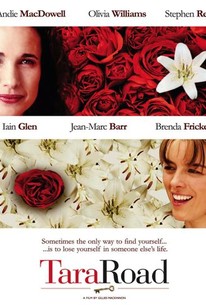 AUDIENCE SCORE
Critic Consensus: No consensus yet.
Movie Info
Andie MacDowell, Olivia Williams, and Stephen Rae star in this bittersweet tale of two grieving women connected by an accidental phone call. Connecticut mother Marilyn Vine (MacDowell) has always lived a charmed life, so when her adolescent son Dale suddenly dies while celebrating his fifteenth birthday the tragedy of her loss is almost too powerful to bear. 3000 miles away in Dublin, Ireland, Ria Lynch (Olivia Williams) finds her marriage to longtime husband Danny (Iain Glen) coming to an unexpected in when Danny reveals that he is divorcing her to set up home with his pregnant mistress Bernadette (Heike Makatsch). When fate delivers the telephone call that connects these two women, both at a crucial turning point in their lives, Marilyn and Ria both agree to a two-month house exchange that could provide them with the space and down time to move beyond the pain that threatens to consume them. As both women grow increasingly accustomed to their new environments, the kindness of strangers and opportunity for reflection provides them both with the courage to face their changed lives with a newfound sense of hope.
Critic Reviews for Tara Road
There are no critic reviews yet for Tara Road. Keep checking Rotten Tomatoes for updates!
Audience Reviews for Tara Road
Two women who have suffered loss - one lost her son and another's husband left her for his pregnant mistress. The two women escape their lives by doing a house exchange for 2 months. Good cast.
Candy Rose
Super Reviewer
Okay. I have not read the book this is based on, and I can't say the movie really makes me want to run out and get it. I think this would maybe appeal to an older woman, or one who has dealt with infidelity or loss of a child. Of the two I warmed more to Ria, played nicely by Olivia Williams. Andie Macdowell I found very dry here. Though I felt sorry for her, I did not especially feel moved or overly convinced. The movie itself is filmed very nicely and the soundtrack works well. I would say it is okay to catch on tv, but not a must-see.
Nicki Marie
Super Reviewer
Caught this one part way through, but picked it up pretty quick. More of a made for TV type of film, but pretty enjoyable anyhow.
Lady D'arbanville
Super Reviewer
Tara Road Quotes
There are no approved quotes yet for this movie.