The Dog Problem
(2007)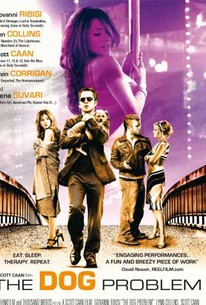 Movie Info
A once-successful novelist in search of creative inspiration and personal happiness purchases a puppy in hopes that the resulting companionship will open up a new path of self-discovery in a contemporary comedy of urban dissatisfaction directed by Scott Caan. There was a time when Solo (Giovanni Ribisi) had it all: success, fame, wealth. But now times have changed, and after squandering his savings on drugs, women, and therapy, Solo finds himself at a personal and professional crossroads. On his last visit to his high-priced psychiatrist Dr. Nourmand (Don Cheadle), the concerned doctor suggests that Solo get a pet to relieve his loneliness. Though Solo has never been particularly find of animals, he soon relents and purchases a pint-sized pooch. Not long after, Solo makes the acquaintance of spunky stripper Lola (Lynn Collins), who just so happens to be caring for a formidable dog that takes a healthy chunk out of Solo's decidedly timid lap-dog. Though the friendship between Solo and Lola soon promises to blossom into something much deeper, it seems as if a canine complication may be keeping the pair from realizing their relationship to the fullest.
News & Interviews for The Dog Problem
Critic Reviews for The Dog Problem
Audience Reviews for The Dog Problem
½
The Dog Problem is a good little comedy that is quite original, and in many ways pretty crazy. I really enjoyed the film, thought that the film was entertaining, well directed and it had a good cast. But this is the type of film that there could have been a slightly better script before green lighting this film. The film for what it is a good, crazy comedy, but at times the film is uneven. I enjoyed very much the idea of the story for this film, and I just enjoyed that things go wrong for the main character brilliantly played by Giovanni Ribisi. This is a well crafted comedy film that is very original. The Dog Problem is simply put, a fun, entertaining and smart romantic comedy that is quite different from other rom-coms of the past. I very much enjoyed its originality of the story if you're looking for a comedy that's quite different, and then The Dog Problem is that film. Not perfect, but this film has enough good things going for it to make it an entertaining viewing experience. The cast do a great job, and it only adds to the films strength. The Dog Problem is a well crafted comedy that is very different, but still retains enough of the usual material we'd expect from a romantic comedy. But this film still has enough originality to make it a worthy film to watch. The Dog Problem is a good film that I very much enjoyed and thought that the plot and acting were great. This is a must see for an audience wanting something slightly different in their rom-coms.
Funny, I guess. It was a pretty slow movie and not incredibly well directed, but it had heart and a good ending. Good to see Ribisi in a leading role, and I always love Caan and Cheadle.
Mondo McDonald
Super Reviewer
½
Giovanni Ribisi finally gets another lead role. he is phenominal!!!
Audrey Lush
Super Reviewer
The Dog Problem Quotes
There are no approved quotes yet for this movie.