Broken
(2006)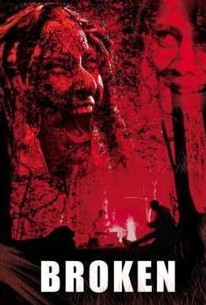 AUDIENCE SCORE
Critic Consensus: No consensus yet.
Movie Info
A woman wakes up in an unfamiliar and terrifying world in this grim horror tale inspired by a true story. After coming home from a date, forty-ish single mom Hope (Nadja Brand Mason) thanks the babysitter, looks in on her six-year-old daughter, and goes to bed. When she wakes up, Hope discovers she was abducted in the night and is trapped inside a coffin-like wooden box that's been buried beneath the ground. When she's dug up and released, Hope learns she's being held captive by a man with no name (Eric Colvin) living in the woods who then ties her to a tree and gives her a razor she can use to free herself -- though she won't be able to do so without severely scarring herself. After a failed break for freedom, Hope realizes her only chance for survival is to bend to the will of her captor, though her desire is largely fueled by a need to know what's become of her daughter. Two months later, Hope has learned more than she ever wanted to know about primitive life with her fearsome master when she's joined by a new victim, a frightened teenage girl (Abbey Stirling). Broken was the fourth feature from director Adam Mason and his first in collaboration with co-director Simon Boyes, who made his feature debut with this movie. ~ Mark Deming, Rovi
Critic Reviews for Broken
Audience Reviews for Broken
What started out feeling like a bad, British response to Wolf Creek, ended up feeling like a bad, British response to the already bad, American films; Captivity and Amusement. Bizarrely, while doing some research for this film, I found nothing but praise. It was low-budget, which is usually enough to find that everyone hates it, whereas I don't. In this case, it was a strange reversal, I hated it (not because of its cheap production values) because it was boring. The film is supposedly based on a "true story", but listening to an interview with director Adam Mason, it turns out this "true story" goes thusly; There was once a killer who dumped his victims in the woods. This movie is in the woods. Also the killer has characteristics that many other real life murderers could have. Yep, "could" have. So it's "based on a true story" in the same way that Titanic is "based" on the life and times of Marco Polo... You know... 'Cause there was a boat. I'd just like to reiterate that this film was woefully boooring. Because I believe that it's probably the worst thing that a film can be. Movies are, after all, filed under the category of "entertainment", so what sort of entertainment is it if it's not in the lest bit entertaining!? There's a couple of okay-ish things about it. The killer's not too cliched, although he's so obviously based on Jigsaw, and not any real life killer. Also I think that happy endings are a cop out, this film does not contain one, so points there. But honestly, when you only have 2 characters, it'd be nice to see some damn character development! There's very, very little to this movie, so already I'm running out of things to say. This is not to somehow be mistaken for a compliment. Broken was just plain bad. Ending and beginning aside, there's nothing at all to it, other than annoyance. Ridiculous amounts of filler, it made me wonder if the guys behind it had any idea what they were going to do when they started rolling the cameras, it seemed more like "Ahhh, shit uh, um, you don't like this guy Ms. ActressLady, just run with it! And you! You're scared, so, be scared? Scream, yes, just scream, that can be your entire role for the next 20 minutes, only scream!" Boring. Boring. Broken. The only reason I didn't feel this film was a complete waste of time, was because I stopped paying attention half way through and started drawing a puppy. So it was only a waste of half my time. 11% -Gimly
½
Brutal stuff, and more developed than I expected it to be. Still has many earmarks of a first feature and amateurism. I'm guessing these guys have some shocking stuff in their future.
½
Boring horror film with shitty characters. I've never been so irritated by the people on screen. When I checked the display on the DVD it said I had 42 mins left and I prayed that this had a 41 1/2 min credit roll. No such luck, just boredom and irritation. And for those who believed this to be a true story, the first thing the writer/director says on his commentary track is that it's all lies, like he's the first one to think of promoting fiction as truth. About as entertaining as being forced at gunpoint to masturbate to naked pictures of you mother. Only reason it doesn't get zero (or half a star on Flixster) is some decent gore.
Christopher Brown
Super Reviewer
Broken Quotes
There are no approved quotes yet for this movie.