Michael Moore Hates America
(2004)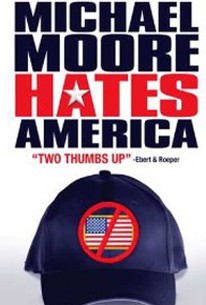 Michael Moore Hates America Photos
Movie Info
From Michael Moore's hometown of Flint, MI, to the movie-making capital of the United States, director Mike Wilson's inflammatory documentary travels across the country to hold the controversial Sicko director's allegedly questionable tactics up to the light for closer examination. Wilson is a filmmaker who wants viewers to question what they see and hear in the media, and he's willing to travel thousands of miles in order to highlight why you too should remain skeptical about Moore's motivations as a filmmaker. The result is a meditation on the American dream, and the manner in which diligence and determination can eventually pay off for the folks who aren't willing to let their dreams fade. Additionally, by speaking with such well-known media figures as Penn Jilette and John Stossel as well as a host of highly respected scholars, Wilson highlights how Moore manipulates interviews and statistics to serve his own personal agenda.
Critic Reviews for Michael Moore Hates America
Audience Reviews for Michael Moore Hates America
I thought this would be right winged angry bullcrap that I would be turing off after 10 minutes, but it turned out to be pretty thoughtful. The film maker is pretty amatuer, but he does a decent job. I think MM is kinda a douche for not showing his face to defend his tactics. What is he so afraid of? That the guy might be right? Hmm....
Curtis Lilly
Super Reviewer
½
[center][font=Arial][color=darkred][img]http://img228.imageshack.us/img228/9438/michaelmoorehatesamerica1gq.jpg[/img][/color][/font][/center] [font=Arial][color=darkred][/color][/font] [font=Arial][color=darkred]Mike Wilson is an ordinary guy. He saw some of Michael Moore's documentaries, listened to some of his interview bits, and didn't appreciate what he saw and heard. But unlike the rest of us, Wilson grabbed a camera and did something. He spent the next couple years scouring the country trying to score an interview with Moore and reevaluate some of his assertions. Wilson's final product is [i]Michael Moore Hates America[/i], a small but potent documentary that's far sweeter than the title may have you believe.[/color][/font] [font=Arial][color=darkred]With camera in hand, Wilson travels around the country to find out what ordinary Americans have to say about Moore's viewpoints. He visits Flint Michigan, Moore's self-proclaimed hometown (his real hometown is a middleclass suburb) and finds success stories. Wilson interviews various figures from Moore's films, like bank workers in the opening of [i]Bowling for Columbine[/i] and an amputated soldier shown in [i]Fahrenheit 9/11[/i] without his knowledge. Wilson also speaks with some of Moore's fans who chillingly declare not to care if Moore misleads or makes up facts, because to them the end justifies the means. All the while Wilson hunts for his interview with Moore but is rebuffed at every pass. Moore even goes on air saying Wilson and his movie do not exist at all.[/color][/font] [font=Arial][color=darkred]Wilson weaves three subjects into his film: 1) an analysis of Moore's filmmaking tactics and statements, 2) a look at what America means to people, and 3) Wilson's own hunt for an interview with Moore. Wilson's interview pursuit resembles Moore's own dogged pursuit of an interview with General Motors CEO Roger Smith in 1989's [i]Roger and Me[/i].[/color][/font] [font=Arial][color=darkred][i]Michael Moore Hates America[/i] is the best of the rebuttal films because Wilson smartly refrains from preaching. He doesn't stick to party rhetoric or unleash baseless claims without supporting evidence. The name may seem mean spirited and spiteful, but Wilson's film may be one of the most fairly balanced looks at politics and film in recent years. This is an attempt to understand why Moore does what he does, and if his actions are honest.[/color][/font] [font=Arial][color=darkred]Wilson is tackling more than Moore's questionable tactics; he's examining the nature of documentary film itself. Is it even possible to be objective when it comes to documentaries? Wilson interviews, among others, legendary filmmaker Albert Maysles ([i]Gimme Shelter[/i]) and Penn Jilette (of Penn and Teller fame) and gets insights into the troubles of objective editing, context, and overriding agendas.[/color][/font] [font=Arial][color=darkred][i]Michael Moore Hates America[/i] is pleasantly well made and articulated. This isn't some ribald shout-fest. It isn't some home movie made in someone's basement either. Wilson's pacing is tight and he knows when to use humor to assist his points. An animated game show called "Six Degrees of Conspiracy Theory" is a fun way to deflate Moore's contention about why Disney dropped [i]Fahrenheit 9/11[/i]. It's a shame Wilson doesn't go back to this segment again. There's also a funny montage of Moore backing unsuccessful political candidates, topped off by him predicting George Bush senior would eat Bill Clinton alive. It's a fun sequence but it also proves Wilson's point that Moore isn't necessarily mirroring the views of America despite his claims. There is an actual thematic reason for its inclusion in Wilson's film.[/color][/font] [font=Arial][color=darkred]The most frustrating thing about Moore, as Wilson's film agrees, is the needless sleight-of-hand when it comes to the facts. It's not too difficult to make President Bush look foolish; just give him enough rope to hang himself. Nor is it too difficult to make a convincing argument that the war in Iraq was misguided (All you'd have to do is quote the 9/11 Commission's report). But Moore has the maddening habit of putting two images together, or separate pieces of information, and creating meaning when there was none before.[/color][/font] [font=Arial][color=darkred]Take for instance Heston's post-Columbine speech in [i]Bowling for Columbine[/i]. In Moore's film, we see harrowing security camera footage of the school massacre, and then Heston pops onscreen, rifle in non-cold, non-dead hand, proclaiming defiance. Moore narrates that Heston and the NRA came to Denver shortly after the tragedy as a shameless PR ploy. Not so fast. As Wilson's film illustrates, Moore has cut and pasted different speeches into one false, defiant statement. The image of Heston clenching the rifle comes from a NRA gathering a whole year after Columbine. The NRA had a Denver gathering scheduled a week after Columbine and was legally obligated to hold the gathering because there wasn't enough time to contact its millions of members and reschedule. Events in [i]Bowling for Columbine[/i] seem a tad different when the harsh light of truth shines upon them. Wilson questions why Moore needs to fudge facts so egregiously to deliver his message.[/color][/font] [font=Arial][color=darkred]While watching [i]Michael Moore Hates America[/i], one gets the distinct impression that Moore cannot take criticism of any kind. One subject calls it Moore's "Achilles' heel". Wilson attends a Moore speaking engagement at the University of Minnesota. He steps up to the mic, requests a brief interview, tells the name of his film, and Moore shouts him down, talks over him, and then cuts Wilson with 7,000 people cheering. Afterwards, some fans do come up to Wilson to comment on his courage or disapprove of how Moore refused to listen to differing points of view. Moore's die-hard fans seem to refuse to entertain any notion that Moore's films could be anything but gospel truth, and it's a shame they'll likely never view [i]Michael Moore Hates America[/i].[/color][/font] [font=Arial][color=darkred]Wilson even finds himself in some sticky ethical situations. He gets an interview from the mayor of Moore's hometown by disingenuously telling him that he's making a film about the appeal of small town America. Wilson prods the mayor for any info on local celebrities. Later, Wilson feels so guilty about misinforming the mayor that he sends him an e-mail apologizing and being upfront about his true intentions. The scene is both surprising and slightly amazing to witness, because it speaks volumes to the brevity of Wilson's ego. It's quite something that Wilson actually went through with the apology, but it's even more impressive that he put the whole incident in his own movie. You think Moore ever sent an e-mail to the people he's misinformed in his films? I wouldn't hold my breath.[/color][/font] [font=Arial][color=darkred][i]Michael Moore Hates America[/i] does have some non-authoritative talking heads. Quotes about the violence in Canada and the resurgence of Flint are not necessarily all encompassing, but I think Wilson is just trying to show different sides of an argument and not the end of an argument.[/color][/font] [font=Arial][color=darkred]Ultimately, Mike Wilson has created a good-natured rebuttal. [i]Michael Moore Hates America[/i] may be a visceral title, but the movie is a balanced, intelligent, above average examination on Moore and the nature of the documentary film field. Wilson doesn't rely on misinformation and emotional appeals; he's looking at all the evidence and instructing us to judge for ourselves. Moore's fans and enemies would be equally entertained to see what Wilson has captured on film.[/color][/font] [font=Arial][color=darkred]Nate's Grade: B[/color][/font]
Nate Zoebl
Super Reviewer
Michael Moore Hates America Quotes
There are no approved quotes yet for this movie.