The Burning
(1981)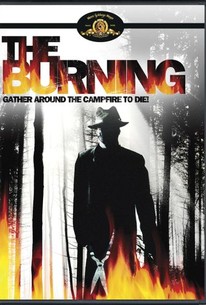 Movie Info
Apart from early appearances by Jason Alexander and Holly Hunter, an interesting score by Rick Wakeman, and some typically effective work by effects icon Tom Savini, this slasher film is also among the more frightening of its kind. The plot concerns a summer-camp caretaker named Cropsy (Lou David) who is horribly burned by mischievous teen campers during a botched practical joke. Years later, he leaves the hospital as a disfigured gloppy mess with an axe (actually, hedgeclippers) to grind. After dispatching a local prostitute, Cropsy heads out to the wilderness to terrorize a group of campers. They're the usual bunch of horny, obnoxious teenagers, but there are some interesting performances by Larry Joshua as a mean-spirited bully and Brian Backer (of Fast Times at Ridgemont High) as a put-upon nerd. The campers visit an island and, in a scene heavily cut by the ratings board prior to release, several of them die in a horrifying mass slaughter aboard a boat. The remaining teens are brutally picked off one by one until Cropsy is finally defeated.
Critic Reviews for The Burning
Audience Reviews for The Burning
½
A 1980s slasher that manages to be efficient despite looking so trashy (there are scenes we can't even say if they are meant to take place during day or night), deserving more credit for its gore (especially in an infamous raft scene) than for being less brainless than Friday the 13th.
Carlos Magalhães
Super Reviewer
½
The early 80s saw a wave of clones, rip-offs, and imitators in the wake of slasher giant Friday the 13th's success. The Burning is one such film. The plot concerns a cruel groundskeeper at a summer camp named Cropsy who is left horribly burned and disfigured after a prank gone terribly wrong. Five years later, he gets discharged from the hospital, and it's not long before he grabs some hedge clippers and heads for his old stomping grounds for a revenge driven killing spree. The film plot and script are rather meh, and this probably won't appeal to many who aren't hardcore genre fans, but, while it is largely slow going and uneventful, once it's cooking, it's not bad. The film generally makes the most of its low budget, and is notable for several reasons. Despite a shoddy script, the characters are actually rather smart, and act quite realistically. This was one of Miramax's earliest efforts, with Harvey Weinstein serving as producer, and Bob Weinstein acting as co-writer. YES keyboardist Rick Wakeman provides an interesting score, and this also served as the feature film debut for Jason Alexander, Fisher Stevens, and Oscar winner Holly Hunter. It also pleased me to see a prominent role filled by Leah Ayres, who I recognized as Van Damme's ladyfriend in Bloodsport. Unlike most film of this ilk, there's also some decent editing, POV shots, fluid camera movement, and fine cinematography. Perhaps the most significant thing about the film though would be the typically effective and impressive effects from maestro Tom Savini. There's some good kills, but the highlight is undoubtedly the raft massacre, wherein 5 people are butchered in the span of about 40 seconds. All in all, I am being rather kind to this movie. It's not a masterpiece by any means, but as far as genre films go, it's better than average, and surprisingly better made than it has much of a right to be. If it sounds like your kind of thing, then give it a watch.
Chris Weber
Super Reviewer
½
Camp Counselor: Every year he kills. Right now he's out there. Watching. Waiting. So don't look; he'll see you. Don't breathe; he'll hear you. Don't move; you're dead!  "A brutal horrific act made him kill and kill and kill" The Burning is one of the better ripoff slashers I have seen. I actually like it quite a bit better than the notable movie it is ripping, Friday the 13th. It isn't a genre staple like some others, but it is easily one of the better times I have had watching an 80's slasher. The fact that the film never got boring is a testament to why a liked it so much. I've seen very few slashers that didn't get boring part way through.  One key factor that I really liked about The Burning was the killer, Cropsey. I really enjoyed his presence because he didn't feel unbeatable. Unlike Jason, he isn't a supernatural, unbeatable presence. He's more human. It just isn't that fun, aside from Halloween, watching a character that you know can't be beaten. This slasher felt fresh in those regards. The one thing that did irritate me about the film was the practical joke at the start. First off, Cropsey should only be mad at himself. In what world do you grab the fire, pull it onto your bed, get up and knock gasoline onto it. Come on. And the kids, did you really think this was a badass prank? From the sound of how they were talking before hand, I expected a little more than the huge cliche prank.  This movie follows Cropsey five years after that prank goes wrong. He is severely burned and is out for revenge. He is now preying on a group of teenage campers. His weapon of choice... garden shears. Gotta love it. There's some pretty cool kill sequences, but nothing that we haven't seen before in countless other slashers. I always enjoy seeing familiar faces in slashers. Many actors have gotten their starts in slashers, and there's another notable one here. Jason Alexander plays a camper and I feel inclined to say, that he gives my favorite teenager in a slasher performance ever. He's funny and actually gives the first really good performance I have ever seen out of an actor in these types of movies. Holly Hunter and Brian Backer are also faces you should recognize.  This is one of my new favorite slashers, outside of the huge names like Halloween and Black Christmas. I just really enjoyed everything this film had to offer, and the fact that I really didn't expect much just made it all the better.
Melvin White
Super Reviewer
The Burning Quotes
There are no approved quotes yet for this movie.