The Sea Beast
(1926)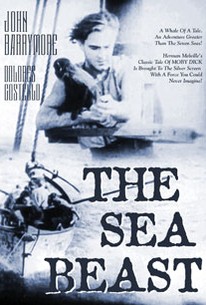 AUDIENCE SCORE
Critic Consensus: No consensus yet.
Movie Info
This silent screen adaptation of "Moby Dick" features John Barrymore in action as Captain Ahab Cooley, played against one of the most famous denizens of the deep, Herman Melville's great white whale. At the beginning of the story, Ahab and his step brother Dererk (George O'Hara) compete for the affections of a winsome minister's daughter, Esther Wiscasset (Dolores Costello). Meanwhile, the albino whale has been eluding harpooners, and bears the scars of many failed attacks against him. His fame has reached epic proportions. One day, Ahab and Derek are on the same whaler as the whale hovers into view. With the visual drama enhanced by the water and pitching boat, Ahab raises his harpoon to kill the beast. At that moment, Derek pushes him overboard and Ahab loses a right leg to the whale. In this scene, Barrymore's portrayal of agonizing pain as an antiseptic is poured over what remains of his leg contributed to his fame as a silents actor. Not long after this incident, the shallow Esther rebuffs Ahab as her suitor once she catches sight of his peg leg. Heartbroken at this turn of events, Ahab blames neither Esther nor his brother - instead he transfers blame and an undying hatred onto the whale. The following saga of Ahab's pursuit of the whale takes on the aura of a super-human quest, far beyond the proportions of its first motivation. One of the most popular of Barrymore's films, this version extends the story beyond the final battle of man versus whale in a variation on Melville's book. Adding publicity to the film was a bit of early Hollywood hype, unintentional though it may seem. The actress Priscella Bonner was fired by Barrymore from the role of Wiscasset, and in a curious parallel to Ahab and the mighty whale, she successfully sued the studio and won a considerable out-of-court settlement. Doubtless due to the popularity of this film, another was released in 1930 under Melville's original book title, with Barrymore again in the role of Captain Ahab.
Audience Reviews
There are no featured reviews for The Sea Beast at this time.
The Sea Beast Quotes
There are no approved quotes yet for this movie.