Horrors of War
(2006)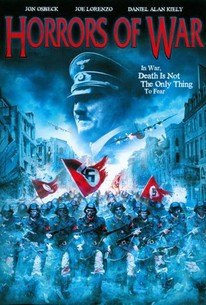 AUDIENCE SCORE
Critic Consensus: No consensus yet.
Movie Info
As co-directed by neophytes Peter John Ross and John Whitney, the low-budget opus Horrors of War represents an ambitious attempt to meld into a cohesive whole two distinct and seldom cross-pollinated genres: gore-filled horror and the WWII-era war picture. The action circulates around a diabolical plot by Hitler's minions to manufacture grotesque, oversized canine mutants - lycanthrope-like creatures immune to bullets and capable of taking out an entire military battalion with a single attack. Hitler realizes this insane plan via one of the physicians responsible for engineering Nazi medical experiments: the psychotic Dr. Heinrich Schaltur. A military man, Lieutenant John Schmidt, has the misfortune of stumbling onto one of these creatures unaware; he barely manages to escape with his life, then subsequently decides to team up with Captain Joe Russo to find Dr. Schaltur and put a stop to the plot before it can fully gestate. ~ Nathan Southern, Rovi
Critic Reviews for Horrors of War
All Critics (3) | Fresh (3) | Rotten (0)
The film is a pleasantly ambitious smorgasbord of genres.
An admirable little indie that earns points for keeping a poker-straight face throughout all the craziness.
Audience Reviews for Horrors of War
My initial thought was that "It might be worth watching for the uniforms", then I remembered that Google Images exists, and could show you the exact same thing with far better picture quality.
A great little indie horror film, that attempts to mix the styles of World War II Combat flick and some horror elements, namely in the inclusion of Werewolfs. It's World War II and Nazi scientists have found a way create soldiers with superhuman strength and who are impervious too bullets. Now it is up to one platoon to go deep behind enemy lines, find this lab, and find out what the fuck is going on out there. The film does a really good job of balancing the two styles, and there is just enough horror in there to keep it from being a normal WWII film, but the movie also never loses sight of it's setting and period. The performances are pretty well done all around, and while not the goriest film Ive ever seen, the action sequences are quite good. While at times this did remind me of Dog Soldiers, but with a fraction of the budget, this movie did have enough creativity to really make it stand out, in the all too often cookie cutter genre that is horror. Recommended.
Ed Fucking Harris
Super Reviewer
Horrors of War Quotes
There are no approved quotes yet for this movie.