The Company
(2007)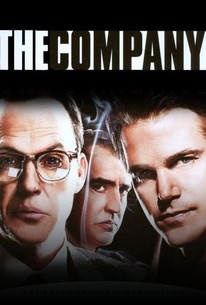 AUDIENCE SCORE
Critic Consensus: No consensus yet.
Movie Info
Chris O'Donnell, Michael Keaton, and Alfred Molina star in this television mini-series event adapted from the book by Robert Littell and brought to the screen by cinematographer-turned-director Mikael Salomon (Salem's Lot and Benedict Arnold: A Question of Honor). An epic thriller that traces the timeline of the CIA from the Berlin Base of the 1950s through to the Gorbachev putsch, The Company details the struggles of agents caught between double lives, that war waged against an enemy as immoral as it is elusive, and the internal battles that threatened to destroy "The Company" from the inside out.
Audience Reviews for The Company
A (Two DVD's!!!) long story of the CIA vs the KGB during The Cold War. Three Yale college buddies enlist into the two organizations. Their loyalties to their countries and themselves are tested and twisted as young men, well into adulthood. A very long movie that was a television series that holds onto the imagination as of whom you think is the trouble maker that is causing problems on both sides of the globe because he or she is posing as a mole in one of the organizations....gripping and worth remembering.
Fascade Fiveoneeight
Super Reviewer
[font=Century Gothic]"The Company" starts in 1950 at Yale University where Jack McCauliffe(Chris O'Donnell), Leo Kritzky(Alessandro Nivola) and Yevgeny Tsipin(Rory Cochrane) are close friends. After graduation, Jack and Leo are recruited by the CIA while Yevgeny returns home to the Soviet Union where he is trained by the KGB for a very special mission. At the CIA, Leo gets a desk job in Washington, DC while Jack is apprenticed to Harvey Torriti(Alfred Molina) in Berlin where they assess possible defectors to the West. Jack's first solo asset is a beautiful dancer, Lily(Alexandra Maria Lara), starting a trend of his getting emotionally tangled in cases...[/font] [font=Century Gothic][/font] [font=Century Gothic]"The Company" is a lovingly detailed miniseries about the CIA during the Cold War which seamlessly weaves fictional characters(One character is short changed while another has a remarkably long life.) with real events(Bay of Pigs, Hungarian uprising of 1956) and people(Allen Dulles, Kim Philby and one of my all-time favorite politicians, J. William Fulbright) to create a vivid tableau. As such, it is better than "The Good Shepherd"(less daddy issues, more substance, better cast), but does not equal "Spy Game" in its conflict between idealism and cynicism which does not get enough play here.(In other words, when do you start believing your own propaganda?) The miniseries plays a little fast with history too, by giving the devil, or James Jesus Angleton, his due. In reality, Angleton was a paranoid(giving Michael Keaton an opportunity to play a whole different kind of crazy) who as head of counterintelligence for the CIA spent decades hunting for a mole who may or may not have existed, wreaking untold havoc in the process. In the miniseries, there is definitely a mole(and it does not take an obsessive paranoid to guess who he is) and that storyline woven in with the history leaves this otherwise quality miniseries on shaky ground. And to contradict a frequent refrain, yes, there are coincedences, just no Santa Claus. [/font]
The Company Quotes
There are no approved quotes yet for this movie.