Solstice
(2007)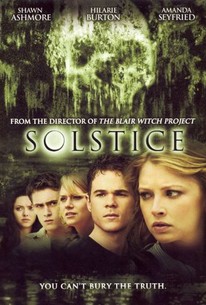 AUDIENCE SCORE
Critic Consensus: No consensus yet.
Movie Info
The Blair Witch Project writer/director Daniel Myrick draws influence from the 2003 Scandinavian thriller Midsummer to tell this haunting story about a group of high school friends coming together for one last blast before heading off to college, and the strange events that begin to unfold when one member of the group suspects that her twin sister, who had recently committed suicide, is trying to contact her from beyond the grave.
Critic Reviews for Solstice
All Critics (1) | Fresh (0) | Rotten (1) | DVD (1)
The pacing of Solstice drags the viewer to the finish line nearly half asleep ... [it] disappoints with its surprising blandness and heavy-handed mediocrity.
Audience Reviews for Solstice
Megan's twin sister has recently committed suicide, and it was a shock to everyone. She was popular, had a terrific boyfriend, and was on top of the world, no one knew just what happened. To celebrate her memory, her sister and a group of their friends go to their summer house for the weekend, and that's when Megan starts seeing things. Her friends think she's nuts, but Megan feels that her sister is trying to tell her something, so Megan goes on a quest to find answers. Why is it always the low budget films you hear nothing about, that turn out to be the most interesting? I honestly thought this was going to be another weird supernatural slasher film, but it wasn't at all. Solstice gives you so many angles and so many things to focus on, including intense flashbacks, a terrific mystery, a creepy neighbor, a missing child, a love story, and of course attractive people skinny dipping. The focus of the film seems quite evident early on, but it really isn't, as Solstice twists and turns in so many directions, that by the time it's over, you'll be left with your mouth open. The cast comprised of normally ancillary characters was terrific, especially Elisabeth Harnois. Her face may be familiar to film-goers, but not because of any leading roles, she has bided her time, taking small roles, learning as much as she could to use in performance like this one. Solstice was her chance to finally take the reigns and she did it with grace and intensity. The rest of the cast, featuring some well-known teen idols, also doesn't disappoint as Matthew O'Leary was hilarious, Shawn Ashmore was the level headed one, and Tyler Hoechlin was wonderfully weird. As I said early, Solstice is a thriller that has it all, from the supernatural to an earthly mystery, it is one terrific film, that doesn't stay in one place for very long. The rural setting and the way the story is told, with well timed flashbacks, just make everything that more intense. It may be a low budget, independent film, but it's better than anything you'll see on the big screen right now and I can't recommend it enough.
Todd Smith
Super Reviewer
½
CAST: Elisabeth Harnois, Hilarie Burton, Amanda Seyfried, Shawn Ashmore, Tyler Hoechlin, Matt O'Leary DIRECTED BY: Daniel Myrick SUMMARY: A young girl uncovers a disturbing secret about her twin sister, who committed suicide just a few months before. MY THOUGHTS: This is my second time seeing this movie. Cought it on t.v. again, and still think it's surprisingly good for a t.v. made thriller. Wasn't really scary, but it had some really good twists. It seemed to be going one way and then took a whole different route. Had some good acting in it as well from some actors I really haven't seen in movie's before. Well besides Amanda Seyfried who has been making plenty of movies of late. But for the rest who are fairly unknown to me, they did a pretty good job for being a young cast.
♥˩ƳИИ ƜѲѲƉƧ♥
Super Reviewer
This is a mix of thriller/horror with a few recognizable faces in the cast. Not the film I was expecting it to be, quite similar to What lies beneath, Stir of echoes. If you like those you might enjoy this as well.
Solstice Quotes
There are no approved quotes yet for this movie.