Blindness
(2008)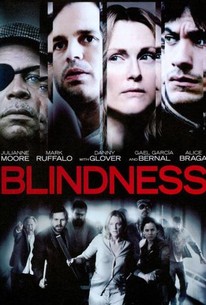 TOMATOMETER
AUDIENCE SCORE
Critic Consensus: This allegorical disaster film about society's reaction to mass blindness is mottled and self-satisfied; provocative but not as interesting as its premise implies.
Movie Info
When one man is struck blind while driving home from work, his whole world is turned to an eerie, milky haze. One by one, each person he encounters suffers the same unsettling fate. As the contagion spreads, and paranoia sets in, the newly blind victims of the "White Sickness" are quarantined within an abandoned mental asylum. But, inside the quarantined hospital, there is one woman who has only pretended she is blind in order to stay beside her husband. She will lead a makeshift family of seven people on a journey to break out of the hospital and into the devastated city where they may be the only hope left.
Critic Reviews for Blindness
Audience Reviews for Blindness
An entertaining movie with excellent acting and an intriguing plot that lost a few stars due to what I would consider illogical story elements. A In a nutshell, the movie follows a group of folks who fall victim to a blindness epidemic and get thrown into an abandoned facility by the military to be quarantined. One of the women, the always excellent Julianne Moore, is immune to the blindness but pretends to be blind so she can accompany her husband, Mark Ruffalo. The majority of the movie is a harrowing tale of how a growing population of confined blind prisoners with no care-taking provided (with the exception of providing rations). It's essentially an adult "Lord of the Flies." To describe my issue, I need to put a "spoiler alert" disclaimer before I continue. A nefarious faction in the "prison" begins to ruthlessly extort and rape the other groups in exchange for their rations which they then horde. Moore and Ruffalo's character establish that they are clearly intelligent and pragmatic as they keep their group civilized, yet Moore' rarely uses her ability "to see" to an advantage. How hard would it be to sneak in when the bad guys are sleeping and/or distracted before things get completely out of their control. She and the other women are repeatedly raped but it isn't until one of the women is killed during one of these episodes that she decides to do something about it. Sure, one of the baddies has been blind since birth giving him additional sensory abilities to detect sound, but having sight when everyone else is blind is a super-power that isn't used until very late. While it was likely done this way to increase dramatic impact, it's really lazy film-making. Other dramatic situations could have been introduced and improved the movie overall. Beyond that it is an entertaining twist on the apocalyptic drama.
Mark Beckford
Super Reviewer
½
The film begins literally conceptualizing the old expression: "in the land of the blind, the one-eyed man is king". Everyone everywhere goes mysteriously sightless all of a sudden, except Julianne Moore, and she uncomfortably has to discover just what to do with her new superpower. The work has ART stapled all over it, and MESSAGE FILM, too. Despite taking itself too seriously there are moments of lucidity, worth the wait, like Moore and Ruffalo's working together again. Either I'm getting older, or Moore has suddenly become a good actress ... or both maybe, yeah?
Kevin M. Williams
Super Reviewer
½
What would happen if everyone turned blind with no explanation or cure? Well, everyone but one person. This film is drawing a pessimistic picture of such a situation. The basic premise is very interesting, the following premise of the infected being held in camps entirely left to their own devices is already a bit over the top and more inhuman than reality, even if you are misanthrope. What follows is sometimes hard to stomach, a bleak, hopeless outlook on the loss of basic human values. It sometimes feels like the film is even going too far here. Once the one person who still can see finally makes use of that advantage, things turn around and the film gets a lot more exciting and makes for a much more convincing finale, that almost feels like a zombie film but at least keeps a ray of hope. The acting and camera work is outstanding either way. A disturbing film, but at least a memorable one.
Blindness Quotes
| | |
| --- | --- |
| First Blind Man: | It's you |
| First Blind Man: | It's you. |
| Doctor's Wife: | What? |
| First Blind Man: | It's you. I can see |
| First Blind Man: | It's you. I can see. |