The Iron Horse
(1924)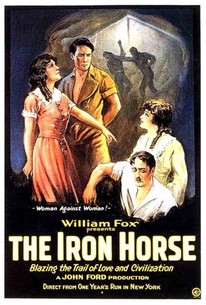 Movie Info
Iron Horse is the seminal western epic and is the film that proved that B movie director John Ford was a major filmmaking talent. Considered a classic, this sweeping tale of the construction of the first transcontinental railroad contains many elements and characters that would later become stock parts of the western genre. The film opens as an idealistic builder shares his dream of building a railroad to link the coasts with a general contractor who pooh-poohs the idea until President Lincoln himself steps in and okays the immense project. The builder and his young son travel to Monument Valley to scout out an acceptable route for the new railroad and select an enormous pass. Unfortunately, they are set upon by Indians and the builder dies. The son, Davy, survives though and grows up to become a rider for the Pony Express. One day he finds himself pursued by more murderous Indians and is only able to escape by jumping off his exhausted horse onto a speeding train. He ends up at the construction sight of the slowly eastwardly moving tracks and there Davy meets the man who years ago, disagreed with his father. This man is now in charge of the project. Davy also meets the contractor's beautiful daughter. Romantic sparks fly, but unfortunately, the girl is engaged to the treacherous surveyor assigned to find a safe route for the pass (Davy and his father already found such a place, but the Indian attack occurred before they could tell anyone). No one realizes that the surveyor secretly works for a greedy rancher who wants the railroad to go across his enormous spread. When Davy tells the surveyor about the route he and his father found, he doesn't understand why the surveyor staunchly insists that the railroad cross the rancher's land until the surveyor attempts to have him killed. Davy investigates and learns that it was the rancher, not the Indians who really killed his father.
Critic Reviews for The Iron Horse
Audience Reviews for The Iron Horse
There are no featured audience reviews yet. Click the link below to see what others say about The Iron Horse!
The Iron Horse Quotes
There are no approved quotes yet for this movie.