The Haunting in Connecticut
(2009)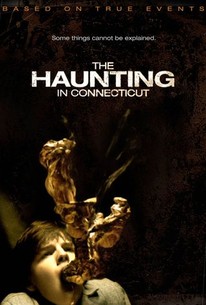 TOMATOMETER
AUDIENCE SCORE
Critic Consensus: Though it features a few scares and some creepy atmosphere, The Haunting in Connecticut ultimately relies too much on familiar horror cliches to achieve its goals.
The Haunting in Connecticut Videos
The Haunting in Connecticut Photos
Movie Info
Inspired by the frightening true-life tale of a family that moved into a converted funeral home and subsequently fell under supernatural attack, director Peter Cornwell's The Haunting in Connecticut follows the quest of a desperate mother to free her family from the grip of an evil beyond human comprehension. Sara (Virginia Madsen) and Peter Campbell (Martin Donovan) have just moved to Connecticut with their young son, Matt, when the young boy experiences a series of disturbing events that lead him to believe a malevolent force is attempting to take control of his family. Back when the home was still a funeral parlor, the original owner's clairvoyant assistant, Jonah, served as a gateway for restless spirits seeking to cross over into the physical realm. When Jonah returns to unleash a new kind of horror on the innocent family, Sara enlists the aid of enigmatic priest Popescu (Elias Koteas) in driving the evil out before it consumes her son's body and soul. At first it appears that Popescu has been successful in driving the spirits away, but then the terror becomes more intense than ever before. ~ Jason Buchanan, Rovi
News & Interviews for The Haunting in Connecticut
Critic Reviews for The Haunting in Connecticut
Audience Reviews for The Haunting in Connecticut
Though it does have its moments and a nice, creepy atmosphere, it seems more like a movie made for TV, with cheap production values, a lot of annoying clichés and a derivative plot that brings to mind a thousand better horror films that you could be watching instead.
Carlos Magalhães
Super Reviewer
½
Throughout the horror genre, original ideas have given way to formulaic, unoriginal ideas that has been done before. That's exactly the case with The Haunting in Connecticut. This is a film that just fails in delivering tense, memorable scares. The performances are bland, and every actor seems not that interested in their performance. This is one disappointing horror film, one that doesn't have any scares and relies far too much on CGI to create its terror. The result is a film that just isn't inventive, interesting or engaging. I think that's it's a shame because it could have been a good haunted house film, however this is a highly forgettable affair, one that is sure to disappoint any viewer looking for genuine scares. The film started off well, but it quickly lost its appeal when the story started unfolding. Some ideas were interesting, I must admit, but it's something we've seen before. When films tend to recycle ideas under different titles, the genre as a whole suffers, and we have several films in the last few years that show the decline of great horror. However, there has been quite a resurgence of original, terrifying horror that has brought the genre back to its roots. But films like this one are not one of them. The lack of originality is what makes this film not worth seeing, and the film's script is poorly written as if the filmmakers didn't care about turning out a good horror film. The results show for themselves on-screen, and it's not a good film whatsoever. If there was more effort put into this film, then maybe this could have been a great outing, unfortunately it fails.
½
The ads made it look spooky as heck, but it was pretty tame. I liked the ending, which came as a nice surprise which horror films never dare. Hard to believe what they discovered was behind the hauntings. The priest was well-acted. The characters were believable. The house was creepy from the onset, so it's sort of their own fault for living there and being haunted.
Lafe Fredbjornson
Super Reviewer
The Haunting in Connecticut Quotes
There are no approved quotes yet for this movie.