The Strange Case of Dr. Jekyll and Mr. Hyde
(2006)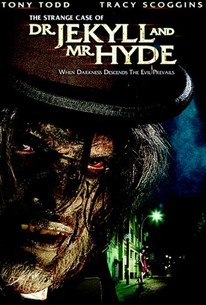 AUDIENCE SCORE
Critic Consensus: No consensus yet.
The Strange Case of Dr. Jekyll and Mr. Hyde Photos
Movie Info
Genre specialist John Carl Buechler offers this savage twist on the classic Robert Louis Stevenson tale by tracing the dark journey of a brilliant doctor who is gradually transformed into a sinister, murderous creature. Dr. Jekyll (Tony Todd) has successfully cured a higher primate of a dire heart condition, but could this treatment prove successful on humans as well? Upon testing the serum on himself, Dr. Jekyll becomes a horrifying and primal beast that goes by the name Mr. Hyde. As Dr. Jekyll descends into a paranoid state of schizophrenia, he fails to see that Mr. Hyde is simply a malevolent manifestation of his own darkest instincts. Tracy Scroggins and Vernon G. Wells co-star.
Critic Reviews for The Strange Case of Dr. Jekyll and Mr. Hyde
All Critics (1) | Fresh (0) | Rotten (1)
Todd is rent-an-actor for cheap horror flicks and this horror looks like it's been made on the budget of an American mortgage lender.
Audience Reviews for The Strange Case of Dr. Jekyll and Mr. Hyde
When Dr. Jekyll cures a chimp of a heart condition he decided to test the drug on himself that of course doesnt go so well as it brings out the evil primitive part of him in the form of Mr. Hyde who ends up killing 3 people along the way and now the cops are on the case and they seek to stop Mr. Hyde no matter what. This movie started off really good had small bits of humor in it as well as the horror and gore also Tony Todd was really good in the role but then it up and fell apart in the end worth checking out but no need to rush and see it.
The Strange Case of Dr. Jekyll and Mr. Hyde Quotes
| | |
| --- | --- |
| Dr. Jekyll/Mr. Hyde: | Nano technology involves the use of micro machinery. We're able to introduce them into an individual's bloodstream by way of injection. We can in theory effect a cure. |
| Dr. Jekyll/Mr. Hyde: | Nanotechnology involves the use of micro machinery. We're able to introduce them into an individual's bloodstream by way of injection. We can in theory effect a cure. |
| Detective Karen Utterson: | Machines? |
| Dr. Jekyll/Mr. Hyde: | Zigfried (the chimp) had a weak heart at birth, but we were able to reprogram him and eliminate the weakness. |
| Dr. Jekyll/Mr. Hyde: | Zigfried [the chimp] had a weak heart at birth, but we were able to reprogram him and eliminate the weakness. |